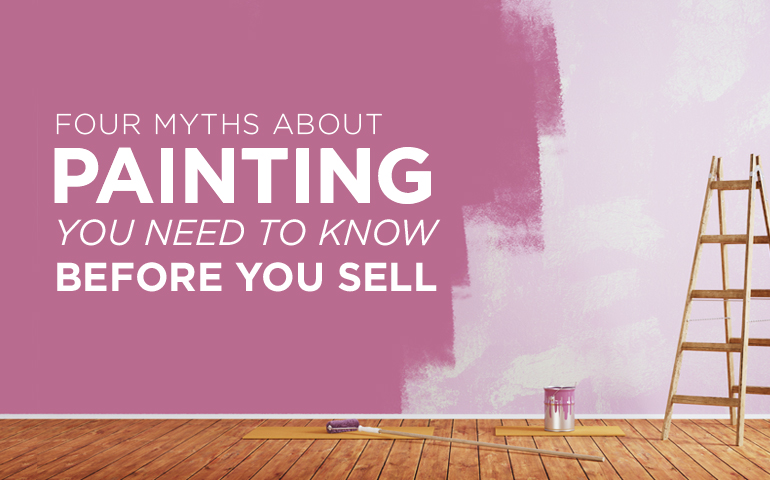 Four Myths About Painting You Need to Know Before Selling Your Home
We all know that right now is a great time to sell a home. The market is hot and buyers are ready to take that next step in their home search. That being said, there are some things you will need to do on your end to ensure that your home is ready to be shown! Have you added painting to your to-do list? We're getting down to the nitty-gritty on all the myths about painting your home before it goes on the market.
Myth: "Painting my home before selling is a waste of money."
Fact: According to most real estate agents, the easiest, fastest, and most cost-effective way to make a house look great and sell fast is to give it a new coat of paint. Statistics show that your house's price can go up as much as 10% when it is well painted. Painting your home before you sell it may sound like a hassle; nevertheless, the majority of buyers run away from homes that look like they are falling apart.
Myth: "People don't pay attention to wall paint when walking through a home."
Fact: The first impression of your home could be the difference between a walk-through and an offer. An easy way to have your home walk-through ready is to add a fresh coat of paint to the walls. This will make your room look fresh, crisp, and attractive to the potential buyer's eye.
Myth: "I can paint over spots to hide flaws from sellers."
Fact: It is very easy to spot flaws within your home. When selling, you will have to replace rotting wood, damaged trim, and will have to paint the stained or peeled areas. The majority of people can tell if a house has been well painted or just covered up, and the last thing you want is to have a potential buyer speculate what you could be hiding.
Myth: "A potential buyer won't care if my paint colors aren't with the trends of today."
Fact: Having your home up-to-date with trends is an important aspect for most buyers. It's a good idea to take a look at your paint colors and make sure they match design trends today. Did you ever pick a color that now looks out of date? Painting that purple room a light grey or taking down the floral wallpaper could sit really well with buyers, especially those who are searching for a move-in ready home!
The bottom line is that painting your home before selling will add a ton of value in a buyer's eye and can potentially get you a better offer. Think of adding a fresh coat of paint as an investment to your home. From making a good impression on buyers to making your walls look fresh, clean new coat of paint will do the job!
Have you heard about our New Neighbor Program? Berkshire Hathaway HomeServices Stouffer Realty Services can offer its clients exclusive discounts from area vendors, including PPG Paints, through our New Neighbor Program. Want to know more? Ask your real estate agent for more information!
Berkshire Hathaway HomeServices does not endorse any of the products or vendors referenced on this material. Any mention of vendors, products, or services are for informational purposes only.