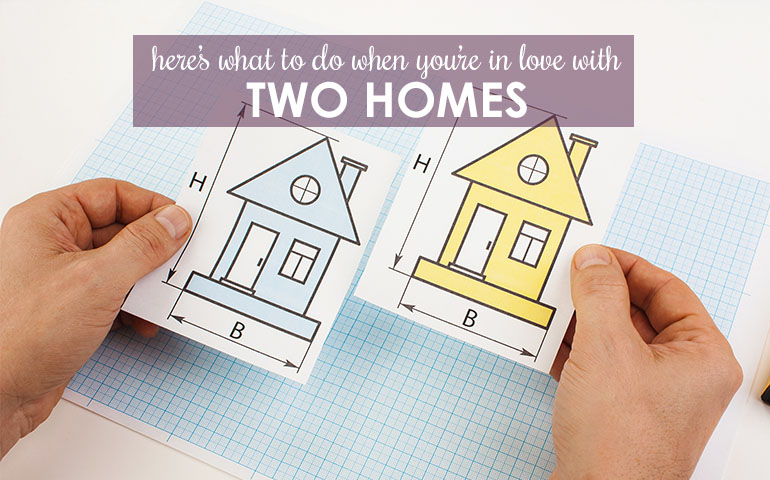 Found Two Perfect Homes? A "How to" Guide to Choose the One for You
OK, house hunters, picture this: you've made your "need" and "want" lists; you've shopped around online and toured through too many houses to count; surprisingly, you've found more than one that fits the bill. Now, what?
When you're searching for a new home and you find two houses that you love, how do you make the decision as to which home is "the one" for you? It is important to keep in mind that this is an excellent problem to have; however, it is one that you should act quickly on, so that another buyer does not make the decision for you by taking action before you are ready to.
We've compiled a few tips for making your home-buying decision as easy as 1 – 2 – 3. Here are three things that you can quickly do to help you decide between two perfect homes:
1. Get that Pen and Paper Back Out
When you began your home search, you made a list of qualities that potential homes needed to have and those that you wanted the home to have. Now that you've found two homes that completed that list, it is time to make another list of their features. This way, you'll easily be able to compare the things that you loved most (and least) about each one.
Of course, you're going to compare things like the size, condition and age of each home. But, when you are compiling your list for comparison, don't forget to include the following important features as well:
Neighborhoods
School Districts
Crime Statistics
Local Amenities
Transportation or Commuting Options
Home Owner's Association Fees
When you see the two homes' qualities listed out in front of you, one home may easily stand out over the other.
2. Consider Cost and Value
As if you haven't already made sure that the two homes fit into your budget, it is time to take a closer look at which home may be more economical for you and your family. Unless the homes cost the exact same amount, have the exact same features and are located in the exact same spot (Impossible, we know!), one of the homes is bound to be a better deal.
When you are considering home cost, also consider home equity. Which home is more likely to hold its value in the short and long term? Remember, just because a home is the largest or most expensive home in the neighborhood does not mean that it may end up being worth the most down the road.
3. Rely on Your Realtor's Expertise
Just like your parents used to caution you about decision-making when you were young, when you are trying to decide between two homes that seem just perfect for you, be sure to take emotion out of the equation. At the end of the day, you want to consider only the cold, hard facts about each home, because it is those facts that will last, not your current feelings or emotions about the homes.
To make sure emotion doesn't mix in with your home-buying decision, consult the advice of your trusted Berkshire Hathaway HomeServices The Preferred Realty real estate agent. Ask your agent to tell you more about each home, including how long they've been on the market and what each seller's situation is. If a home has been on the market for a long time and a seller needs to move for a work or family situation, they may be more inclined to negotiate on price. If a home has recently been listed and has already seen a lot of interest, the seller may be more apt to wait for a better offer than you are willing to make. You can also ask your real estate agent to take you through each home more than once or twice, so that you feel comfortable with your final decision.
When you are armed with all of the facts about the two homes you are choosing between and you've considered each home carefully, you're bound to be happy with your decision, no matter which you home choose.
If you're ready to start the home-buying process or you need help deciding between two homes that you love, contact a Berkshire Hathaway HomeServices The Preferred Realty agent today.