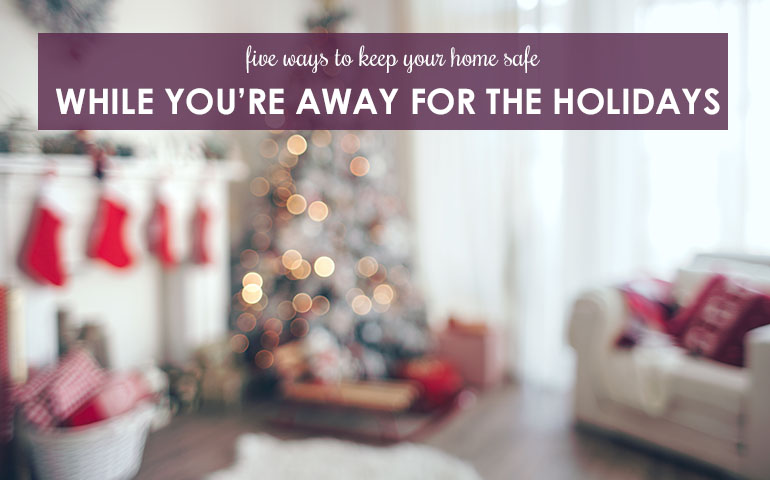 Five Ways To Keep Your Home Safe While You're Away For The Holidays
If you are not planning to be home during the upcoming holiday weekend, it is a good idea to take special precautions to protect your property and your valuables. Here are five tips to help you trick potential burglars who could be looking to tackle your home over the holidays.
Invest in a Video Doorbell
Having a video doorbell at your house might keep a package thief away. This season your Ring Doorbell can help keep your home safe by keeping an eye on your home when you are not there. The doorbell allows you to use an app to monitor your home and will even send you notifications when there is movement at your home!
Ask a Neighbor or Friend To Watch Over Your Home
If you have a trustworthy neighbor or friend who will be home for the holidays, have them check in on your house. They can turn on various lights or even set the timer on a TV to make your home seem occupied. It is also a great idea to have a neighbor shovel your driveway or sidewalks if it snows so that isn't obvious that you are away. Seeing someone regularly go in and out of your home can deter any suspicious individuals from lurking nearby.
Stop Your Mail For a Few Days or Have Someone Pick It Up
If you're already enlisting the help of a friend or neighbor to check on your home, ask if they can bring in your mail and any packages that may be arriving. Packages left outside for days can be a great signal that no one is around. So, either have a friend pick up your mail or hold it at the post office until your return from your holiday travels. You can easily put your mail on hold through the USPS website and stop when you return!
Strategically Leave Lights On
When you're leaving your home for a few days, it always seems like a good idea to leave a few lights on. This is particularly true during the holiday season. But, you don't want to just set a few timers on lights by your windows. Anyone who could be scoping out your home may notice a pattern and realize that no one is home. Instead, set a few lights near windows on timers, but also turn on a few interior lights or lamps.
Don't Be Too Social About Your Holiday Plans
Social media is great, but you might want to limit how much you share about leaving for the holidays. You may think you're only sharing your holiday plans with your Facebook friends and Instagram followers, who are your close friends, but that is just not the case. Even if your social media sites are relatively private, you never can be too sure whose account could get hacked or who may be peering over a friend's shoulder while they're scrolling through their newsfeed.
Lock the Garage and Hide the Spare Key
People often forget about the garage, but it's one more point of entry. Turn off automatic garage door openers, and use a clamp or padlock on the inside so that the door can't be opened. Also don't forget to get rid of your spare key. No matter how clever you might think you've been in hiding it. If people need access to your home while you're away consider installing a smart lock with a keypad. You can assign unique PIN codes to each user and if the lock is integrated into even a basic smart home system, you can control when guests have access and receive an alert when someone unlocks the door.
Don't let a Grinch steal your holiday cheer — or your valuables — this season. Instead, take a few precautions to keep your home safe and be on your merry way to a wonderful holiday season!