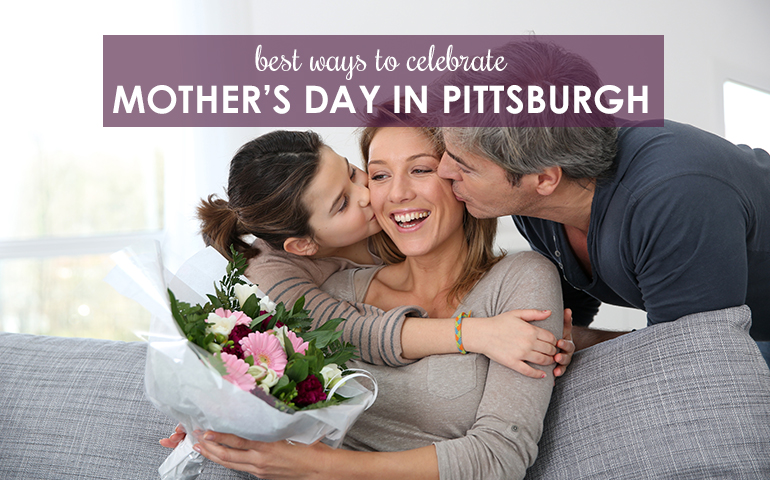 Five Ways to Celebrate Mom in Pittsburgh This Mother's Day
Some people do Mother's Day the flowers way, or the jewelry way or the chocolate-dipped fruit way. But, for those of us in Pittsburgh, there are a few ways to show Mom you care with a little hometown flare.
Mother's Day is this weekend, and if you're still looking for a way to impress the special moms in your life, Pittsburgh has some options that are sure to let her know how important she is.
Here are five ideas to help you impress your mom this Mother's Day—the Pittsburgh way:

1. Take a Tour
If you live in or around Pittsburgh, it is likely that you've overlooked the idea of taking your mom on a tour of the city this Mother's Day. But, don't be so quick to dismiss the possibility! Even if you think you've shown your mom around every inch of the city, consider this… has she ever seen all that Pittsburgh has to offer from its three rivers? On Mother's Day, you can cruise through the city on the Gateway Clipper Fleet! Enjoy brunch, lunch or dinner while floating down the Monongahela, Ohio and Allegheny rivers. You'll make a Mother's Day memory that is sure not to drift away anytime soon!

2. Get a Little Wild
If you're not into seeing Pittsburgh by water this Mother's Day, nature may still have a way of helping you impress your mom this weekend. The Pittsburgh Zoo is welcoming all moms to explore the zoo for free this Sunday. She's helped you spread your wings, so why not show your mom how you can fly by taking her brunch at the National Aviary. Finally, if animals just aren't your mom's thing, take her to Pittsburgh's Botanical Gardens. Not only can you impress Mom with beautiful floral sights, but you can bring the kids, who will be able to pot plants or make crafts for Mom.

3. Root for the Home Team
We all may still be a little saddened by the end of our hometown hockey season, but this Mother's Day, the Buccos are in town to help us wipe those tears away! The Pittsburgh Pirates are facing off against the San Francisco Giants this Sunday. So, why not take your mom to PNC Park? Good food and a great game with the family are sure ways to show her you care this year.

4. Support a Great Cause
In the wake of the Pittsburgh Marathon, runners across the city are coming together once again to show their support for a cause that's dear to many moms—and just about everyone else. This Sunday, the 26th Annual Susan G. Komen Race for the Cure takes place at Pittsburgh's Schenley Park. Get active with your mom or simply show your support for those affected by breast cancer by making a donation to this great cause.

5. Spend the Day in the City
This weekend's forecast may look a little dreary, but that's no reason to stay home on Mother's Day. Pittsburgh is filled with special events that are sure to wow your mom—and you! From a Mother's Day Cabaret at the Ritz Banquet Hall to a performance of Love, Lust & Rock n' Roll at Heinz Hall, the arts are ready to impress this Sunday. Lawrenceville's Allegheny Wine Mixer can help refine your tastes with a cheese and wine pairing class, or you can keep it traditional and take your mom to brunch at one of Pittsburgh's many great restaurants. The Threadbare Cider House, Hyeholde Restaurant, Bistecca Steakhouse & Wine Bar and many other restaurants are offering special dining experiences for Mother's Day.

Whether you've done your shopping already or not, Pittsburgh can help you treat your mom to a special experience this Mother's Day. Help her enjoy her special day in the city we all love. From all of us at Berkshire Hathaway HomeServices The Preferred Realty, Happy Mother's Day to all the deserving women out there!