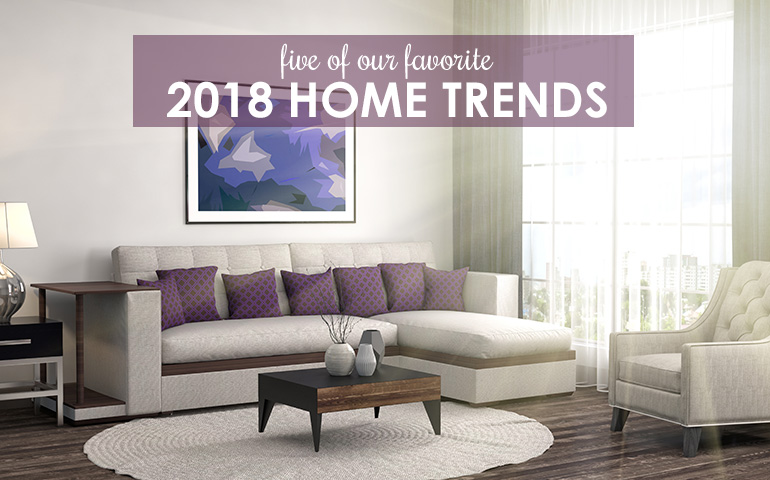 Five Ways to Add 2018's Hottest Trends to Your Home
The ball has dropped. The streamers are all swept up. We've given 2018 an official welcome and you may already be hard at work on some of the resolutions you set. What does the new year have in store when it comes to your home? New décor trends, of course!
From design shapes to textures to colors and more, we've done the legwork when it comes to emerging home décor trends for 2018. The result of that research? Five tips to help you incorporate some of this year's hottest home design trends in your home. Heed our advice to bring your home into the new year in style:
1. Be bold and brassy.
From kitchens to bathrooms and anywhere in between, brass is taking over in a big way this year. It may be bolder than the brushed metal or stainless steel finishes many homeowners could be used to, but brass is a hot trend for the new year. If you're looking to make a subtle décor change that will stand out in your home, go ahead and be brassy.
2. Cave in to color cravings.
Pantone has deemed ultra violet as 2018's "it" color. If you're not a fan of that bright, brilliant hue, you may be pleased to know that warmer colors like reds and yellows also seem to be pretty cool for the new year too. Furniture, home accents or even floor and window trim that feature any of these colors could give your home that design "something" that it could currently be lacking.
3. Notice a pattern.
Bold, colorful… seeing a pattern? You should be—and particularly when it comes to patterns in your home this year, too. From innovative geometric shapes to feminine florals, bold patterns are stepping up to shine. If you're not quite ready to cover your home with floral wallpaper, try bringing in a few bold patterns on accent pillows or artwork to get this trend started in your home.
4. Embrace artisan everything.
Who doesn't love having original, hand-crafted pieces that make a statement in your home? Décor like woven baskets, wall art and well, pretty much anything else artisan you can find will make your home instantly trendier in 2018. Help your home tell a hand-crafted tale by incorporating one or more artisan pieces into your décor.
5. Let rustic rule.
You already know how we feel about shiplap, right? As if HGTV didn't give us enough reasons to use this material in our homes anyway, it looks like natural, rustic elements are going to be big this year too. Don't be afraid to select stone or another natural material to give your décor new life in the new year.
Like one or more of these home décor trends? It's not too late to add another resolution to this year's list. Don't be afraid to embrace some décor trends and give your home a new look in 2018. Here's to a year of full of home-decorating potential!