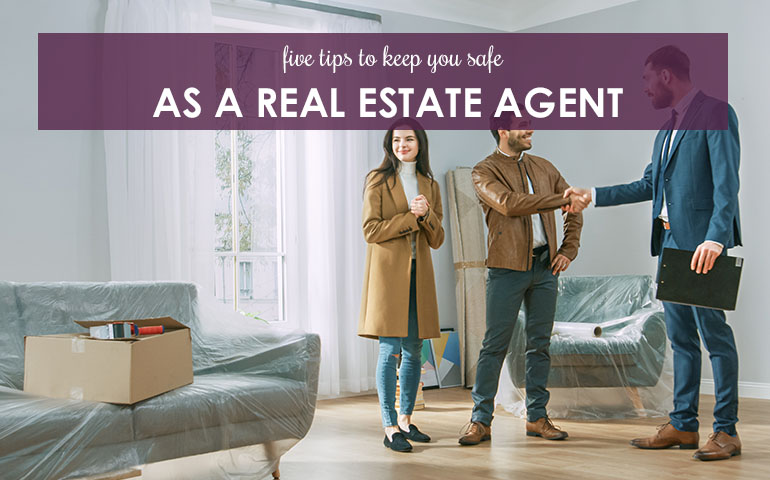 Five Tips to Keep You Safe as a Real Estate Agent
According to the National Association of REALTORS® (NAR) 2017 Member Safety Survey, almost half of female REALTORS® (44 percent) and one in four male REALTORS® have experienced a situation in the past year that made them fear for their personal safety or safety of their personal information. No one should ever have to feel unsafe at their place of work. In this article, we will discuss the top safety tips and tricks to keep you secure when meeting with clients.
Set Initial Client Meetings at Your Office
Holding your first client meeting at your office or a public place like a coffee shop will set a professional tone for the agent-client relationship, but also provides a safe meeting place. You should take this opportunity to make a copy of your new client's driver's license and have them fill out a "New Client Prospect" form. Once you meet with your client and get a good read on them you will feel more at ease when going on showings.
Keep Control of Property Keys at All Time
Having keys to a property is a big responsibility and can also pose a security risk for both you and your client. Be sure to know exactly where property keys are located at all times. Leaving keys outside of the home in locations such as under the doormat, above the door or behind a bush can expose you to the possibility of someone copying the key without your knowledge. Use a secure, electronic lockbox system so you can better control keys and access to a property.
Don't List Your Property as "Vacant"
Avoid listing properties as vacant. Advertising an empty house can be seen as an open invitation to criminals. It can also leave potential buyers wondering why the previous owners left.
Always Inform Someone When You Have a Showing
Letting a family member, a close friend or your boss know when you have a showing is a great idea. Inform them of the address of the property you will be at, along with the name and personal information of the client you're meeting. It is also a great idea to utilize location finding devices such as "Find my Friends", so someone can easily track the location of your phone if necessary. You should also program your favorite contacts into your phone in case of an emergency.
Trust Your Instinct
Trust your instinct when you are showing a property. If you feel unsafe don't hesitate to cancel the showing and leave immediately. Most agents that have fallen victim to crime stated they felt unsafe, but did not do anything about it. Be sure to follow your gut in an uneasy situation.