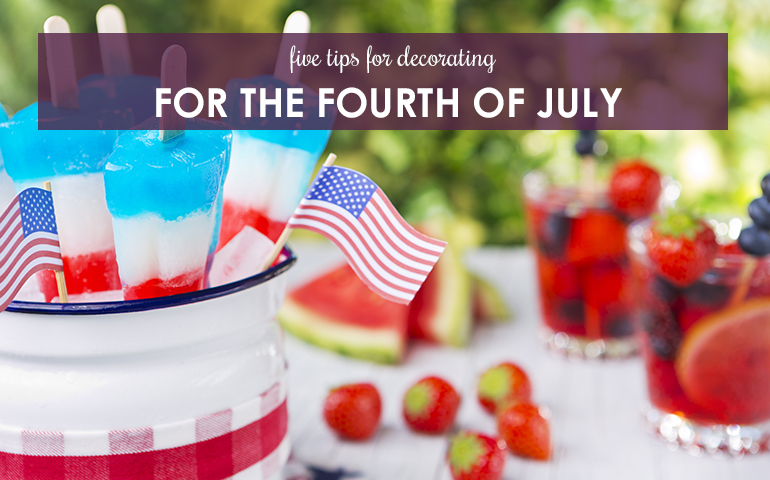 Five Tips for Decorating for the Fourth of July
With the 4th of July fast approaching, get into the holiday spirit with these 5 easy steps.

1. Flags
It doesn't get more 4th of July than flags, right? Use lots of red, white and blue flags to spruce up your space. Throw a large flag on your front porch for a more classic look, or incorporate flags in unique ways throughout your house like in your flower pots or lining your driveway. Small flags can be found at Michaels to create this look.
2. Table Settings
Creating a fun and festive table setting will be a sure way to impress your guests. Start by placing flag runner down the center of the table and then layering red, white and blue plates. Paper plates are a great idea for easy cleanup after a big party. Throw some lanterns into the mix for a fun, summer feel.

3. Throw Pillows
It's super easy to turn your living room or outdoor patio into a festive space for the Fourth of July. Adding simple throw pillows in addition to your current decorations is a great way to spice up your space for the holiday. Pottery Barn has a ton of great options or you can head to Target for some alternatives that won't break the bank!

4. Wreaths
Deck out your house in red, white, and blue by adding a wreath to your front door! This piece will tie your whole house together for a festive look. A great idea would be to make your own wreath. Do this with your kids for a fun summer craft!

5. Festive Lanterns
Adding some lanterns throughout your house will look great with all your other Fourth of July decorations. Try making your own lantern by filing a mason jar with red and blue marbles and adding a tea light!
With these five easy and cost-effective decorating tips, your home will be sure to look the best in the neighborhood! Don't forget to share your pictures on Facebook with the BHHS Stouffer Realty Team!