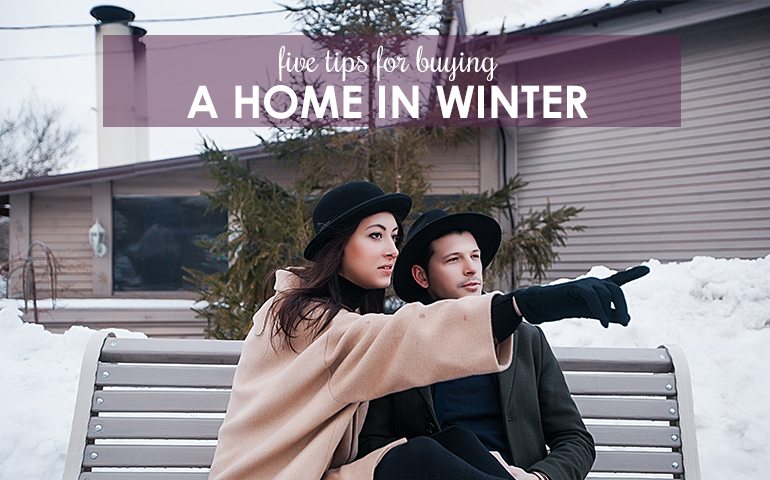 Five Tips for Buying a Home in Winter
During this busy shopping season, many of us are crossing items off our lists each and every day. But, what if you're looking for a very big-ticket item this holiday season? Though there may not be as many buyers on the market right now, those people who are looking for a home are serious. So, we've made a list of some seriously good tips for buying a home in winter.
If you're searching for a home right now, here are five tips to follow:
1. Don't let the holidays take a toll on your credit score.
If you're looking for a home right now, it is likely (and recommended) that you sought loan preapproval before you started your search. If you've already been preapproved and you're now ready to make a home purchase, make sure you don't overspend during this holiday season. Your lender checked your credit at the time you applied for preapproval, but they surely will check it again before you go to close. Splurging during the holidays could take a negative toll on your credit score. A lower credit score may not be a deal breaker when it comes to mortgage approval, but it could prevent you from getting the best interest rate. The moral of this spending story? Corral your credit habit if you're in the market for a new home.
2. Be flexible.
A little snow during the holidays may make you feel festive. But, it seems that any snow after this spirited season makes us all feel a little fussy. If you're looking to buy a home this winter, the thought of snow and ice should make you feel flexible! Don't be surprised if Mother Nature hampers your home search this winter. Instead of getting frustrated, be willing to work around the weather when it comes to showings, open houses and even going to close on a new home.
3. Don't wait too long to make a decision on a home you want.
During winter, there may be fewer buyers looking for homes. But, there also may be fewer homes to choose from. What does that mean when you want to buy? It means that you shouldn't wait to make a move on a home you're interested in. You may not be facing any bidding wars this season, but you could still lose out on a home you want if you wait to make an offer.
4. Take advantage of daylight hours. Days are shorter in winter, which means there are fewer hours where you can view potential homes in natural light. Before you make an offer on a home, make sure you have an opportunity to view it during the day and at night. You want to make sure you see everything about a potential home before you purchase it.
5. Enjoy a little extra attention.
Because there traditionally are fewer homes on the market and fewer people looking for homes in winter, buyers are able to enjoy a little extra attention from the service professionals who assist with their sales. Yep, everyone from your home inspector to your lender to your real estate agent may have just a little more time to cater to your home-buying needs during winter. Enjoy that additional attention on your way to your new home!
Are you on that list of buyers looking for a home this winter? If so, start searching for Pittsburgh real estate now!