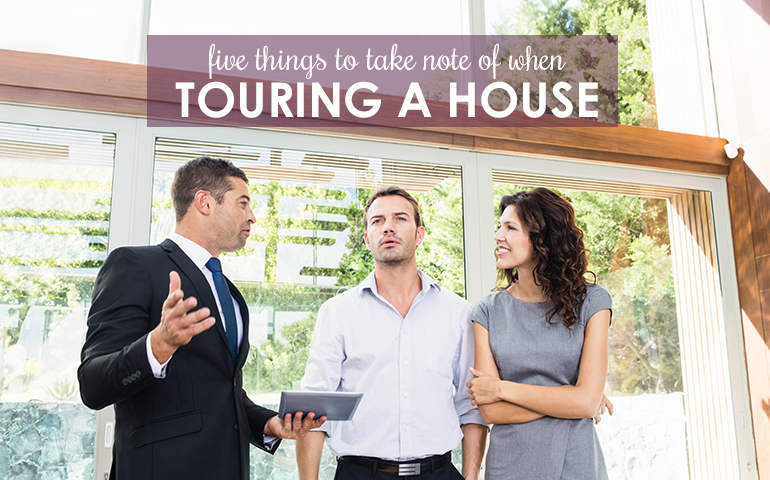 Five Things You Don't Want to Miss When Touring a Home
In today's real estate market, time can be of the essence when a new home goes up for sale. In highly coveted areas, it can seem like homes are already under contract before you even see a "For Sale" sign in the front yard. So, what can a motivated buyer do to give themselves the best chance of landing the home of their dreams? Know what to look for, of course!
We're not just talking about that suggested list of needs and wants, either. When it comes time to tour through a home, most buyers already know if the home has enough bedrooms and bathrooms to accommodate their needs. They may even know that it has the granite countertops they've been wanting. So, what should a potential buyer be looking for while they're touring through a prospective home?
Here are five things serious buyers are sure to look for when touring through a home:
Neighborhood As you're driving to potential homes, take note of the other homes and neighbors who may be out and about. Does the neighborhood look like one where your family could thrive? Keep in mind that these are the people you will be around on a daily basis. If you are a family of four with two pets and you see no evidence of other families or pups in the area, you may not be in the perfect place for you. Try to note how those around you receive you when you're looking at potential homes.
Layout A home may have all the things you're looking for… the right number of bedrooms and bathrooms, plus a beautiful yard and patio. But, even with the features you know you want, a home could be all wrong for you. When you're touring through a prospective home, imagine yourself walking through it on a daily basis. Is the layout something you can live with? Remember that making minor adjustments is easy, but changing major things about a home's layout will cost you! Pay close attention to a home's layout before you decide to make an offer on it.
Usable Storage Space It is easy to be blinded by granite countertops and incredible hardwood floors while you're gazing through a potential home. But, don't let those beautiful distractions prevent you from looking practically at a home. Review every inch of a home to make sure you will have not only enough room for your family, but also for your family's belongings. A beautiful home with no storage can leave you miserable in the long run.
Expensive Repairs Things like paint, carpeting and cabinet colors are relatively easy fixes. However, if you tour a home and find issues like leaks in the roof or plumbing or electrical glitches, you could be in for more than you've bargained for. If you see anything that raises a red flag, you may not have to turn a house down, but you will want to pay special attention to what your home inspector sees as they tour through.
Foundation Cracks Cracks in a home's garage or basement could mean major structural problems down the road. Sure, you may be able to attribute those cracks to typical settling issues, but they could create financial issues in the future. Again, this advice can never get old… have your home inspector pay special attention to any potential issues you see during a showing.