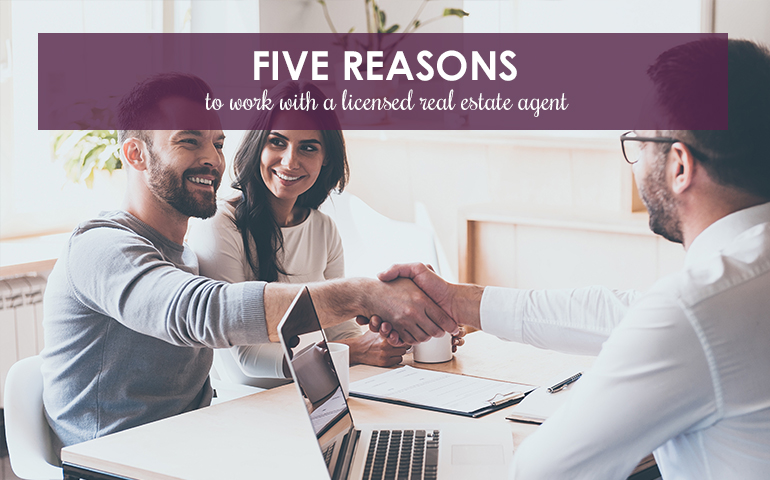 Five Reasons to Work with a Licensed Real Estate Agent
The internet has enough information to turn almost any beginner into an experienced do-it-yourselfer. Have a running toilet? Check out a couple of YouTube videos, and the next thing you know you are replacing the float, flapper, chain, and now have a perfectly quiet toilet. Never planned a dinner party? Stop by Pinterest, and your guests will think you hired Martha Stewart. But while the web has great tools to assist with buying or selling a house, it cannot provide the skills you will require from an experienced licensed real estate agent.

1. Neighborhood Knowledge
If you are looking to buy a home, you may know what neighborhood you want to search in. You may even have friends or family who live there and can provide you with helpful information. But an experienced local agent has likely sold homes in that area. They know the market from start to finish. They are aware of comparable prices and have access to homes that are available but have not gone on the market yet, the information you will not find on the internet.

2. Convenience and Access
Looking for the perfect home is time-consuming, even when you only consider the time you take to go look at potential homes. Now, imagine you don't have an agent who is in charge of contacting the listing agent, setting up a time for you to tour the home, acquiring access to the house, and is a trusted agent who can make sure everything in the house is left as is. If you are arranging all of the previously mentioned necessities yourself, you are adding a lot of time to your search.

3. Negotiating
You may have negotiated $20 off that used bike you bought off Craigslist. But negotiating the price of a house takes a lot of experience and knowledge. A seller can reject a potential buyer's offer for any reason, including just because they don't like you for some reason. An agent communicates your needs for you and won't let any issues a buyer or seller might have from getting too personal and ruining the deal. Also, an agent will help draw up a purchase agreement that allows enough time for inspections, contingencies, and anything else that's crucial to your particular needs.

4. Contracts
Buying or selling a home requires dozens of forms, reports, disclosures, and other technical documents. Agents have the expertise to not only do this work for you but also the training to do it properly with the oversight of their agency. Buying or selling a house is a transaction where delays or mistakes can have serious financial consequences. Trying to sell or buy a home without an agent is like trying to represent yourself in court – a real gamble.

5. Fiduciary Responsibility
An agent is a fiduciary of the client, which means they are legally obligated to act in their clients' best interests. A short list of those responsibilities includes the following.

Accounting: The agent must account for all funds entrusted to them and not commingle (combine) client/customer funds with their personal and/or business funds.

Care: The agent must use all of their skills to the best of their ability on behalf of the client.

Confidentiality: The agent must keep any confidential information given to them by their client, especially information that may be damaging to the client in a negotiation.

Disclosure: The agent must disclose to the client any information they receive that may benefit the client's position in a negotiation.

Loyalty: The agent owes undivided loyalty to the client and puts the client's interests above their own.

Duty: The agent must obey all lawful orders that the client gives them.

While it may seem like something you can do on your own, buying or selling a house is a complex process in which you deserve the help of an experienced professional to ensure your happiness and success.