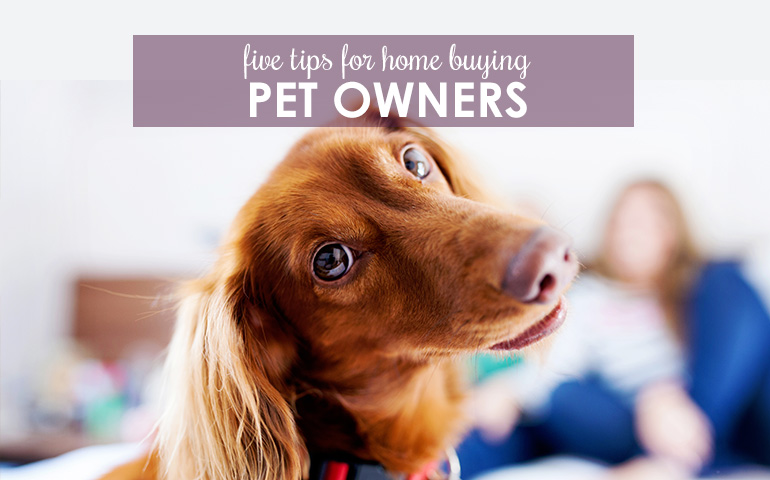 Five Pointers for Buying a Home with Pets
Some have fur. Some have fins. Some have four legs. Some have feathers. One thing that our pets have in common is that they all are members of the family. So, when it comes to buying a home, we've got to keep their needs in mind. But what exactly does that mean for today's home buyer?
Here are five tips for home buyers looking for a new home that will accommodate their pets:
1. Follow the rules. Check city or county rules and regulations as well as any homeowner association rules. Some homeowner associations may not allow any pets. Even if they do, they may limit the number of pets or the way that you can keep pets in your home or condo. For instance, you may have to have a fence. While it is unlikely that a county may restrict you from having pets, there could be limits on the number of pets that you can have or laws that require you to keep pets on a leash or in a fence at all times when they are outside.
2. Consider flooring and other features. We all love our pets, but let's be honest. They sometimes tend to treat our floors slightly differently then we might. For that reason, some pet owners may want to avoid buying a home with any carpeting. This way, they'll also avoid having to get out stains and odors that pets can leave behind. And yes, though we'd like to forget about our pets' accidents, we know those smells, stains and memories linger. But, flooring isn't the only home feature that pet owners need to pay special attention to. Think about the stairs, too. When pets are young, they may have no problem running around all over the place. But as pets age, a couple flights of stairs may be too much to handle. Think about your present and future needs when it comes to your pets and your new home.
3. Think about size and space. If you've got a large dog or several cats, you want to make sure your pets have enough room to run around. This goes for space indoors and outside. You may feel that you have adequate room for your pets to run around, but don't forget to think about the things that go along with your pets. You know, the toys, dishes, beds and even blankets that your pet is so fond of. If you work outside of your home, you may keep your pets in a crate while you're at work. Will your new space have room for those crates and other items? These are all factors to consider when it comes to the size of home you're looking to buy.
4. Notice the neighbors. Notice their pets, too. If you drive around the neighborhood and don't see many people out walking dogs, you could get a feeling that you and your pets might not be so welcome. Similarly, if you notice a neighbor is letting their pet run around without a leash and you routinely see the furry friend coming into your could-be yard, know that you may have to deal with an extra furry friend (and anything that they may leave behind) on a regular basis if you move into the neighborhood.
5. Take a look at traffic. Of course, this is something the no pet owner wants to think about, but if you are living along a highway or even a highly-trafficked street, you've got to be cognizant that your pets could be in danger. Cats routinely run outside when doors are left open and so do dogs. If you are living in an area with a lot of traffic, you may want to take extra precautions for your pets. Invisible fencing or a training collar can ensure your pets stay safe.
Are you a pet owner who is ready to buy a home for your furry, feathered or finned friends? Contact a real estate agent who can help you get your home-buying process started today.