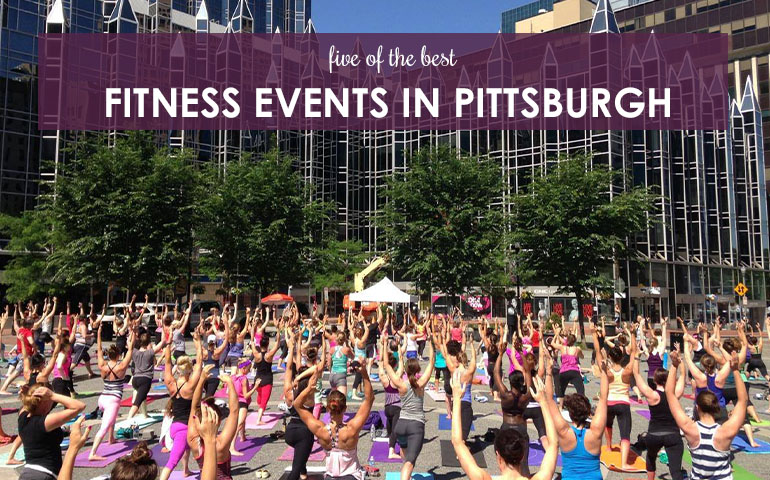 Five of the Best Fitness Events in Pittsburgh
Now that the warm weather is finally here to say, it's time to get outside and get moving. Pittsburgh is home to some of the best fitness events in the country! It's time to get your heart pumping and enjoy the Pittsburgh fitness culture!
Yoga in the square is one of Pittsburgh's favorite free yoga events! Enjoy one hour of free yoga in the heart of Market Square. Hosted by the Pittsburgh Downtown Partnership, Yoga in the Square occurs weekly on Sunday mornings and Wednesday evenings. The event is BYOM (bring your own mat)! Arrive early to secure your spot and be sure to check out Pittsburgh Downtown Partnership's website to see the schedule of instructors.
31st Annual Gatorade/Steelers 5K Race
Join Honorary Captain, Franco Harris for the 31st Annual Gatorade/Steelers 5K Race, Fitness Walk and Kids' Kickoff Run on Monday, Sept. 2, at 8 a.m. at Heinz Field. The race will start at Heinz Field, go through the north shore and finish on the football field! All proceeds go to the Art Rooney Scholarship Fund. Registration is open now.
Get ready for a night at PNC Park and a Buccos' win! SHAPE training will be hosting a boot camp on Federal Street on Saturday, August 3rd. After the workout, enjoy the Pirates play the Mets, followed by fireworks.
This year Market Square will host a Health and Wellness Fair every Monday from 11 am- 2 pm until the end of August. The fair will have various vendors that are all centered around helping Pittsburghers live a healthy lifestyle. Be sure to stop by Healthy Rides to learn about Pittsburgh's new bike share program and then head to Live Well Yoga to get a free yoga class!
Since 1977, The Great Race has been Pittsburgh's favorite 10K. Over the years, this popular fall fitness classic has grown to include a 5K run/walk, running clinic, two-day expo, and children's race…with more than 16,000 individuals taking part in these various activities annually. You won't want to miss out on this race! Registration is open now.
Whether you are a runner or yogi, or just want to take in the fresh air and learn about healthy foods there's something for you in Pittsburgh! Be sure to check out some of these events and don't forget to share your experience with us at Berkshire Hathaway HomeServices The Preferred Realty!