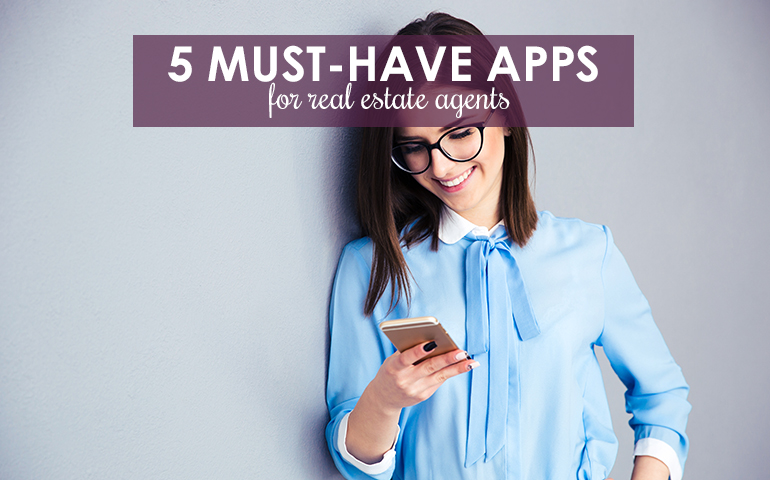 Five Must-Have Apps for Real Estate Agents
Eager home sellers are not the only people gearing up for a bustling spring real estate season. Real estate agents everywhere are preparing for what is typically one of their busiest times of the year.
With multiple listings, clients and other professional contacts, how can a real estate agent keep organized? Even the real estate agents who have mastered answering emails over lunch and scheduling showings from the road may need a little extra assistance during peak seasons.
Where can a busy real estate agent turn for help? To your smartphone, of course! There are some pretty awesome apps to help agents with everything from generating leads to marketing homes.
Here are five of the best apps for real estate agents:
Are you finding it is too much work to have each open house visitor sign in and complete a form, only so you must go back and enter their data? This app lets open house attendees sign in digitally. It also automatically stores their information, saving you lots of time on entering data after a busy open house. Open Home Pro will even help you follow up by sending attendees emails or text messages.
How do you coordinate getting your clients to sign all of the paperwork that goes along with buying or selling a home? Gone are the days of signing paper copies. Realistically, gone are the days of signing documents and scanning them to send through email—at least when it comes to this app. Docusign allows users to sign needed paperwork electronically. It even helps real estate agents manage transactions.
It's no secret that real estate agents spend a lot of time in their cars, especially when you have multiple showings in one day! Getting to a listing or the office on time is super important, that's where Waze comes in. It gives you up-to-the-minute traffic conditions that will help save you from sitting in traffic.
Create professional, branded videos in minutes! With Videolicious, real estate professionals can upload photos or videos, add voiceover, music, text, logos and more. The easy-to-use app walks you through step-by-step until you're video is complete. Best yet, you can easily share the video to social media or send via email.
Looking for a way to stand out on social media? Canva can help! This easy-to-use app lets you create beautiful, professional graphics in a breeze. You can make collages, overlay text on images, insert your logo, add borders and frames and much more! Not the creative type? No problem! The app includes thousands of templates that can be easily formatted with your content. Plus, the templates are perfectly sized for social media!
If you want to impress prospective buyers and sellers during a busy market, you've got to be on your toes. So, embrace some of the latest technology! With real estate apps like these, you'll wonder how you ever got by without them.