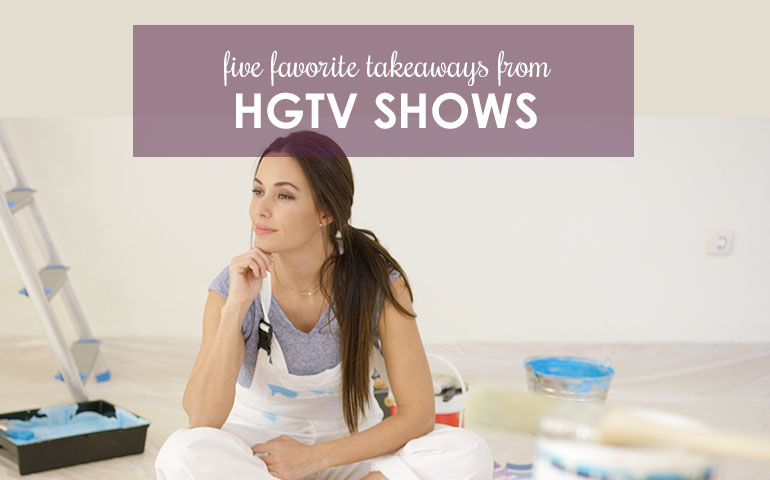 Shiplap to Subway Tile... Five Favorite Takeaways from HGTV
We've all been there, curled up on the couch or in bed on a rainy day flipping through the channels, until we happily rest on our favorite HGTV show. Then, suddenly, something happens. It's like our TV remote just stops working. Oddly enough, all motivation to get up also escapes us. We're drawn in and one incredible HGTV marathon ensues.
Luckily, homeowners, renters and everyone in between actually can stand to learn a lot from a day of binge-watching HGTV. Whether you're a fan of Fixer Upper, Property Brothers, House Hunters or any of the other AH-mazing home improvement shows those masterminds at HGTV put on the air, here are just five fabulous things you can take away:
1. Everyone should get to enjoy a demo day.
Whether it is floral wallpaper, hideous old paneling or brazenly bright paint that is making you despise a wall in your home, nothing will give you much more pleasure than knocking a wall over. But, as seen on HGTV, just be warned. After an awesomely satisfying demo day, you may be in for a long road to renovation completion. Putting the finishing touches on what you so bravely tore down never seems to go as smoothly.
2. Always expect unexpected costs.
Hidden water damage, HVAC issues or possibly just pricy tastes… in the case of reality TV, some extra expense comes up in pretty much every episode. While you may see the extreme on your favorite HGTV shows, it is very common (and easy) to go over budget when you're looking for a home or completing a home renovation. You may not be able to predict or resist every added expense, but you can try to prepare for them by setting aside a little extra in your budget.
3. You really can't go wrong with subway tile.
From Fixer Upper to Property Brothers to House Hunters, when you see some subway tile, you're going to swoon. That goes for real life, too! This bold accent adds instant pizzazz to any kind of counters and cabinetry out there. When it comes to a backsplash, you can't go wrong with subway tile. Thanks for the tip, HGTV!
4. The open concept is everything!
And, if it takes flowing hardwood floors throughout to achieve this look, well, so be it. The chances are that no matter what HGTV show is your favorite (like you can pick just one?!), you are familiar with the term "open concept." You know, it's that perfect way that form and function meet to unite the kitchen and family room into one perfect entertaining space! Now, how to accent and adorn that open concept? With a little shiplap, of course. That's HGTV perfection!
5. You don't want to do it by yourself.
Have you ever seen one of those idealistic couples on House Hunters searching for a home without some help? No way! Are homeowners hosting their own demo days with no assistance? Not a chance! Now, the real estate agent/buyer or contractor/homeowner relationships that you see portrayed on an HGTV show may not be realistic, but the true reality is that you need some help whenever you're purchasing a home or making major renovations. Knowledgeable agents can help with everything from finding the right neighborhood to negotiating a home price. Skilled contractors can help with… well, everything around a house! Frankly, that's even more than you can get from spending the day binge-watching HGTV!
It may be hard to step away from watching your favorite home improvement shows on HGTV, but when you're ready to play the role of house hunter or you've decided to "list it," you can turn to the experienced team at Berkshire Hathaway HomeServices The Preferred Realty. No, we're not made for TV, but we are made for real estate success!