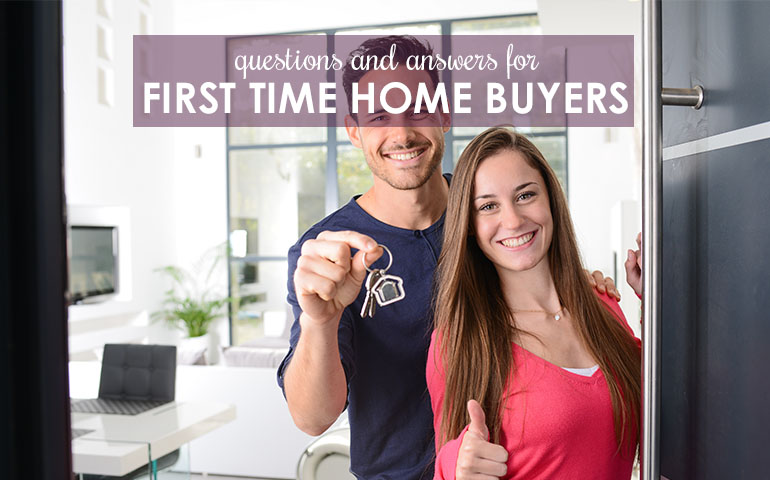 First-Time Home Buying Help: 10 Frequently Asked Questions and Answers!
If you're in the market to buy your first home, you're likely feeling overcome with emotions, questions and possibly even some worry. After all, you've undoubtedly been advised that buying a home is one of largest purchases you'll ever make. Of course, you don't want to make a mistake, so all of the questions you may be asking and concerns you may be feeling are more than natural.
To help guide first-time homebuyers through their big-time purchase, we've compiled a list of some of the most-frequently asked questions we've received. Here are a few of those questions, along with some answers to help ease your mind during the home-buying process:
1. How do I know if I'm ready to own a home?
While there is no single sign that will confirm a person is ready for home ownership, there are a couple cues that will signal it could be your time. If you love the area that you're living in and you're planning to stay for a while, you may be ready to settle down and buy a home. If you've got a savings plan in order that is allowing you to pay down debt and save a little nest egg, you could be ready for the financial side of home ownership. Finally, if you've gotten to be pretty handy around the house, you could be ready for the maintenance that accompanies owning a home.
2. Why should I buy a home instead of renting one?
The real estate market is constantly changing, but often times, it is more cost-efficient to buy a home rather than rent one. Think about it. When you buy, you are investing in your own future. When you rent, you are helping your landlord to invest in his or her future! There also are financial perks like tax deductions and home equity that come along with owning a home.
3. How do I know how much home I can afford?
So that you don't enter the home-buying process blindly, it is a good idea to meet with a bank or lender, who can help you determine a range of home prices that you may be approved to buy in. Lenders will consider how much a buyer makes, how much debt they have, any assets they own and their credit history before issuing a preapproval letter, which details the amount they can purchase, providing their financial picture does not drastically change during the home-buying process.
4. How do I find the right lender?
When it comes to financing a home, it is a good idea to shop around for the best mortgage terms. Many buyers often start with their own personal banking institutions or credit unions. The federal government offers competitive loan programs for first-time homebuyers as well. Buyers are able to seek out mortgage rates from several lenders before selecting the one that is best for them.
5. Am I able to buy a home with average credit and little or no money down?
This question is one reason that it is always a good idea to shop around for a mortgage. In most cases, there are loan programs for nearly every homebuyer who is looking to get into the real estate market. A buyer's credit score and down payment may impact the amount they're approved to buy or their financing rate, but there are typically mortgage options to meet many financial situations.
6. How much money do I need for a down payment?
The amount of money you'll need to put down on a new home depends on the price of the home you select, along with the mortgage terms that you're approved for. Different lenders offer different loan options that may allow a buyer to put as little as 3-5% down or even less. However, you may encounter private mortgage insurance (PMI) during part of your loan, which will add on to your monthly mortgage payment until you pay off the PMI.
7. What is PMI?
PMI or private mortgage insurance is something that lenders use to protect themselves against a buyer who defaults on their home loan. PMI is money a buyer pays along with their principal and interest to reimburse a lender in case they default. This fee is usually lumped into a buyer's monthly mortgage payment until about 80% of their home is paid off, at which point PMI is typically cancelled.
8. What does a monthly mortgage payment cover?
When a first-time homebuyer is looking to purchase a home, it is important to realize that a monthly mortgage payment does not cover all of the monthly expenses that go along with home ownership. Often times, a monthly mortgage payment covers the principal amount borrowed, homeowners insurance, property taxes, interest fees and PMI, if applicable. Monthly mortgage payments do not cover things like utilities, cable and internet service or homeowners association fees.
9. Do I need a real estate agent?
Technically, it is possible to buy a home without a professional real estate agent. It's just a whole lot harder to do on your own. Not only have professional real estate agents received training to help buyers, but they're also up-to-date on current market conditions, real estate procedures and the closing process. They've also got helpful industry contacts, like lenders, appraisers and other service professionals at their disposal that can make the buying-process go more smoothly. Finally, a professional real estate agent is happy to represent a buyer while making an initial offer, negotiating on price and at any other time during the home-buying process.
10. What happens during the closing process?
After buyers and sellers agree on a home's price, the closing process begins and it typically lasts between 30-60 days. During this time, the purchase contract is drawn up and signed, financial documents are finalized, home inspections and appraisals are completed and various other legalities are handled, too. On closing day, both buying and selling parties meet (often for the very first time!) to sign final documents and hand over the keys!
Hopefully, this FAQ list has helped to quell a few questions and worries on the minds of some first-time homebuyers.