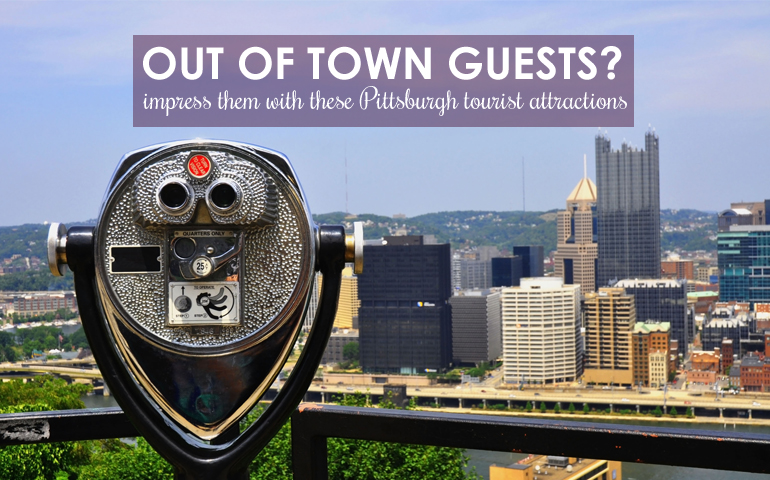 Pittsburgh Tourist Attractions Sure to Impress Any Guest
With spring in the air and the school year winding down, summer travel is high on the minds of many of us. While you may be busy planning a beach getaway or a couple of camping excursions, it is also likely that you'll be planning a few tourist-worthy trips around Pittsburgh this summer too.
Whether you've got family and friends visiting from out of town or you want to enjoy a bit of a staycation in the city this summer, Pittsburgh has some attractions that will cater to any tourist's tastes.
With so many things to see and do in Pittsburgh, we had a hard time narrowing down our favorites. So, we've grouped a few together and compiled a list of five ways to wow a tourist in the city this summer:
1. Show off the city.
From three scenic rivers to expansive city parks to a bustling cultural district and—oh, the food, too—Pittsburgh is full of awesome sights, sounds and tastes! How can you see and do it all in a weekend's time? By taking one of the city's best tours, of course!
And, why would the city of three rivers offer only one way to navigate through it all? It wouldn't! When it comes to touring through Pittsburgh's most historic or impressive views, you can zoom around on a Segway, trek through land and water on a duck or stay out to sea on the Gateway Clipper fleet. Either way, Pittsburgh is sure to impress you with its historic sights and so much more!
2. Experience some science.
If a relaxing tour is not for you or your guests, consider exercising your mind a bit. For kids of all ages, Pittsburgh is a great place to bend your brain in the areas of science, technology, engineering and math—you know, STEM! From the Carnegie Science Center to the Children's Museum to the Allegheny Observatory, the city is widely known for cutting-edge technology, innovation and academics. Find out more about an activity at just one of these STEM-centered facilities this summer and you're sure to impress any guest!
3. Enjoy the arts.
Not only is Pittsburgh known for providing a technologically-advanced look into the scientific fields, but it also is full of cultural diversity. The Andy Warhol Museum and Mattress Factory are just two places to experience pop culture. The Benedum Center, Byham Theater and Heinz Hall provide entertainment that ranges from comedy to drama to symphony and more. So, if you've got out-of-town guests with a flair for the fine arts, Pittsburgh is sure to surpass their expectations.
4. Navigate through nature.
We've already mentioned the city's abundant green space, but nature also can get a bit wild in Pittsburgh. In fact, animal lovers can spend more than a weekend exploring some pretty exotic habitats around the city. From the Pittsburgh Zoo and PPG Aquarium to the Phipps Conservatory, you can see everything from lions and tigers and bears to blooming flowers and butterflies. Your guests will roar with excitement when it comes to the natural experiences Pittsburgh offers.
5. Soak in the excitement.
When you're in Pittsburgh, you don't have to stop walking on the wild side when it comes to animals. You can splash into some historic summer fun at Kennywood or Sandcastle—or both! Thrilling coasters and rolling water slides welcome guests to some summertime fun they're not soon to forget at these must-see Pittsburgh parks.
Of course, Pittsburgh is also known for our top sports teams. We may be cheering on our hometown hockey team tonight, but summertime offers a season full of opportunities to enjoy a professional baseball game at one of the nation's most beautiful ballparks.
Whether you're trying to impress out-of-town guests or just taking in some of what our city has to offer this summer, get out there and enjoy a bit of Pittsburgh's fun, food and festivities!