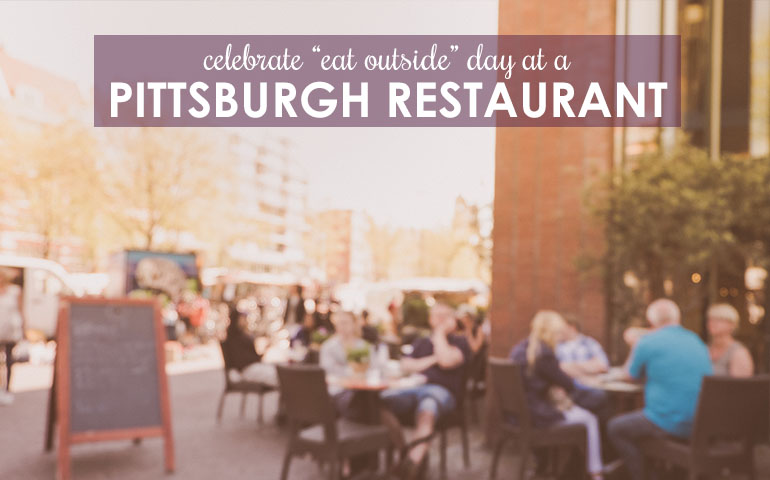 Enjoy National Eat Outside Day on a Porch or Patio in Pittsburgh
Today is National Eat Outside Day! While many Yinzers may argue that the best places to enjoy a meal outside are at PNC Park or Heinz Field, our hometown teams don't happen to be playing today. Luckily for anyone who lives or works in Pittsburgh, there are so many great options when it comes to outdoor dining. In fact, it is pretty easy to find outdoor dining options all over the city!
Here is a neighborhood-by-neighborhood look at a few of our favorite Pittsburgh restaurants that have some amazing outdoor seating:
With classes back in session for the semester, University of Pittsburgh students will certainly be looking for a relaxing outdoor atmosphere in Pittsburgh's Oakland neighborhood. You can find one—and some great food there, too. The Porch not only has outdoor dining and an awesome view of Pitt's Cathedral of Learning, but it also has a walk-up window where you can grab $1 coffee on your way to class or work!
This Shadyside hot spot is known for delivering great food and drinks—which just so happens to include $1 baskets of bacon! On top of that, you can enjoy all of that greasy goodness outside in one of Pittsburgh's most bustling neighborhoods.
Pittsburgh's Mt. Washington neighborhood may be known for its incredible view of the city. But, it should also be known for an evening outside at Shiloh Grill! Stop in today to enjoy signature drinks and casual American favorites like macaroni and cheese or tater tots. Oh yeah, and this sister spot to Harris Grill also carries $1 baskets of bacon!
It doesn't have to be Taco Tuesday for you to savor the flavor of some tasty Mexican food in Pittsburgh. At Lawrenceville's Round Corner Cantina, any day can be a fiesta when you dine outside on the new patio!
Whether you're a meat lover or you only have eyes for veggies, the South Side's Double Wide Grill will cater to your culinary delights! Good food, drinks and an incredible location along Pittsburgh's Carson Street make the Double Wide Grill a great place for brunch, bar-b-que and everything in between!
Pittsburgh's downtown cultural district is home to Six Penn Kitchen—and its amazing rooftop bar! Whether you are hitting up happy hour after work, having dinner or hosting a private event, Six Penn Kitchen is sure to impress!
We may have already hit on a great outdoor dining spot in downtown Pittsburgh, but we simply can't help but mention the outdoor experience at Market Square. From various food options to regular Farmers Markets and other activities, you can see it all in Market Square. The Oyster House, Nola on the Square and Primanti's highlight just some of the fabulous food options that line the streets in Pittsburgh's Market Square.
While our list of some of the best outdoor dining spots in Pittsburgh can take you all the way around the city, you may pass a few other porches and patios at restaurants you can't resist along the way. Our advice? Try them all! Cooler air makes now the perfect time to dine outside in Pittsburgh. So, today, on National Eat Outside Day, pick a spot for lunch or dinner (or both) and enjoy great food with an outdoor view of Pittsburgh!