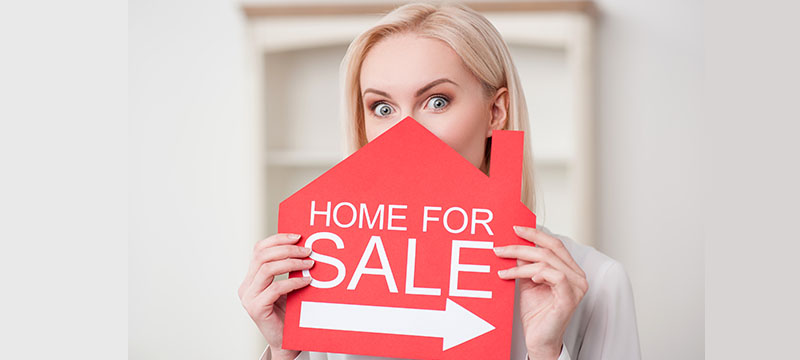 Don't be a Statistic: Just Say "No" to These Five Common Seller Mistakes!
In addition to the longer days, warmer weather and overall freshness that the spring season brings, this time of year also ushers in what is typically one of the busiest times in the real estate industry. It can be competitive for buyers; it can be competitive for sellers; so, quite frankly, no matter what kind of real estate move you're planning to make, you've got to be at the top of your game! Today, we're examining a few mistakes that many sellers make that can cause them to lose money, lose a sale or lose overall buyer interest.
Here are five common mistakes sellers make – and how you can avoid them if you're planning to sell a home this spring:
1. Overpricing a Home: Talk about a mistake that can send a home sale into a downward spiral from the beginning! Setting the wrong price for your home could turn off potential buyers from the get-go. It is natural to love the home you're selling, want the best price for it and even think it may be worth more than what you're able to get for it. But, when you overprice your home, the only way to go is down – and, that is IF a potential buyer even decides to take a look.
You can set a fair, reasonable price for your home by working with an experienced real estate agent who will complete a competitive market analysis for you. He or she will scan recent area home sales and listings to ensure you're not pricing yourself out of the market from the very beginning.
2. Failing to Properly Show a Home: We've already mentioned that natural love many sellers feel for the home they're listing. For sellers, that kind of affection can work both for and against them – depending on how they let it show during the home sale process. Many people take a lot of pride in the way they've decorated their homes, but when it's time to list a home, sellers must remember that they want to showcase their home as a blank palette where potential buyers easily can envision themselves living – and creating their own memories. But, how can sellers let go?
The best way to show a home during the sales process is to keep it meticulously cleaned and decluttered – from the listing photos through the entire closing process. This means packing away personal items and keeping up with all of the everyday indoor and outdoor maintenance and cleaning tasks while your home is on the market.
3. Refusing to Budge: As a seller, it is natural to want to have the upper-hand. After all, it can be hard to let go of something that you've spent time and energy making just right and creating memories in. But, you've got to be flexible during the sales process and keep your mind focused on the main goal - selling your home! This kind of flexibility comes into play when it is time to budge during both showings and negotiations.
When you're the seller, sometimes you're at the mercy of a potential buyer's schedule. If they are only able to see your home at 7 p.m. on a Tuesday night, you may need to have somewhere to go, so that your home is open to them. When it comes time to talk about offers, sellers have to keep an open mind, too. If an offer comes in that you may think is laughable, it may be worth your while to counter, instead of simply refusing to entertain the notion at all and losing a sale that could have been negotiated into "the one."
4. Not Disclosing Everything: And, we do mean everything. We can't stress enough the importance of entering the home sale process with an open mind about your home. Though you may love it dearly, you've got to see and disclose any faults it may have. This includes everything from cracks in the foundation to leaks in the roof, or any other issue, visible or not. Not doing so is not only dishonest, but it also could railroad a sale that is nearly complete. Once a buyer catches wind of needed repairs during a home inspection, they have the right to jump ship on a sale you may have thought was in the bag.
How can you avoid losing a sale because you didn't disclose everything about your home? Um… no brainer here, disclose everything to your realtor! And, if something comes up during a home inspection that even you were unaware of, deal with it directly. Not every issue is one that will make a buyer walk away.
5. Choosing the Wrong Realtor – or (Gasp!) None at All: For every reason we've listed so far and many more, it pays to have an experienced, professional realtor guide you through the home sale process. But, some sellers still decide to try to navigate the process on their own, hoping to save on realtor commissions. Then, there are some sellers who decide to hire an agent based on advice from family or friends, which can be great… or not so great.
Many statistics point to the fact that for sale by owner (FSBO) transactions garner a great percentage less than agent-brokered home sales. So, it makes financial sense to hire a realtor when listing a home. When it comes to choosing the right realtor for you, listen to the recommendations of family and friends, but do the leg-work as well. Interview more than one realtor to make sure you're confident in your choice.
For more help in avoiding any of these five common mistakes that sellers make, contact an experienced, professional Berkshire Hathaway HomeServices The Preferred Realty real estate agent today.