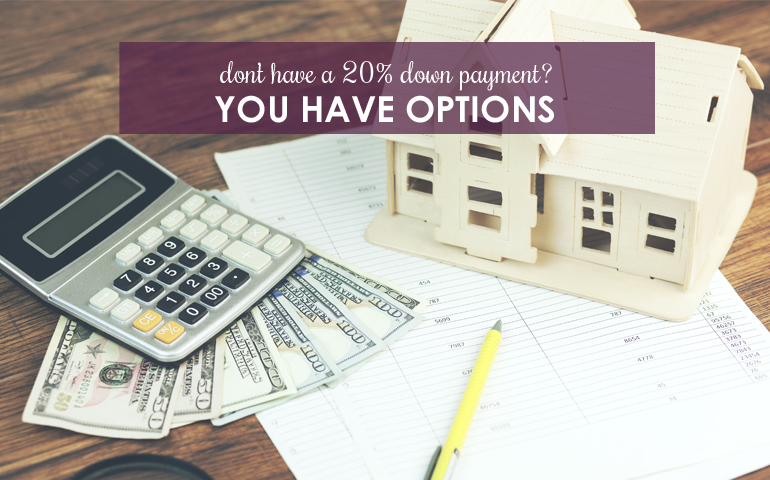 Don't Have a 20% Down Payment? You Do Have Options
It has long been believed that buyers must put 20% of a home's purchase price down to qualify for a conventional home loan. Is this really the case? First-time homebuyers can find some relief from federal loan options. But, these buyers are not the only ones who can take advantage of options when it comes to conventional mortgages.

It's true. A 20% down payment will likely ensure a lower borrowing rate and it will eliminate private mortgage insurance, or PMI, which is often paid monthly—on top of a homeowner's monthly mortgage payment. But, the fact is that you don't have to put 20% down to secure a mortgage. Actually, today's home buyers have several options.

Here are three ways home buyers can avoid putting down 20% of a home's purchase price to secure a mortgage:

1. Pursue a loan backed by the Federal Housing Administration (FHA).
The federal government is willing to ensure a home mortgage if it is understood that the buyer will pay PMI. With this type of mortgage, buyers are required to put down as low as only 3.5% of a home's purchase price. Instead of paying that money up front, these buyers pay a monthly fee—in addition to their mortgage payment. They continue to pay this PMI until they've met about 20% of their new home's purchase price. So, if you don't have 20% to put down up front, a government-backed loan may be an ideal option for your next home mortgage.

2. See if you qualify for a VA loan.
Military families have even more options than regular home buyers when it comes to obtaining a mortgage. Our nation's veterans can apply for a loan through the U.S. Department of Veterans Affairs—and these loans come with pretty much no strings attached. VA loans are conventional home loans that do not require any money down and they do not come with any PMI obligations. Often, VA loans also offer competitive, low borrowing rates. The only drawback for some buyers? These loans are reserved for military members and their families. If you think you might qualify, check into a VA loan for your next home purchase.

3. Shop around with private mortgage lenders.
Federally-backed home loans are not the only mortgages that allow buyers some leniency when it comes an upfront down payment. Private lenders also offer conventional home loans with lesser down payment requirements. These loan options likely will come with PMI, which is paid monthly but could be eliminated in a year in some instances. Private lenders may be stricter when it comes to a buyer's credit score, income, and other qualifications. They also may not offer the lowest annual percentage rates to buyers who put down less than 20%. However, private lenders are still likely to offer home loan options for a wide range of qualified buyers.

The moral of the story is that today's home buyers are not required to have a 20% down payment to purchase a home. If you are pursuing a home loan, review options from various lenders to find the mortgage that is best for you.