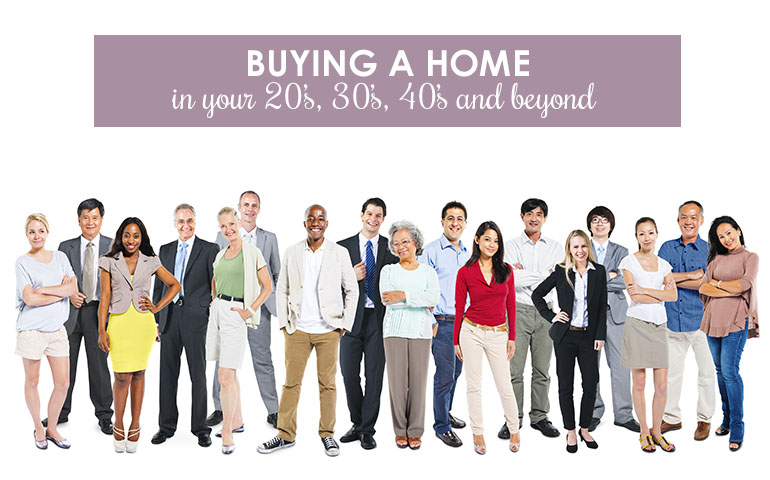 Decades of Difference: Buying a Home at 20, 30, 40 and Beyond
With age comes… different priorities—and nothing could be truer when it comes to buying a home. What a first-time homebuyer wants and needs is likely far different from what a veteran homeowner, who has decided to downsize, is looking for.
Of course, any potential home buyer needs to take things like their credit score, savings and debt-to-income ratio into consideration when they are planning to buy a home. But, here are a few specific things homebuyers, from 20-something to 60-something, should consider:
In your 20s…
Think short-term and long-term. It's easy to think about your immediate needs and wants. But, if you're buying a home in your 20s, you also need to think a little further down the road. If you're planning to live in your first home for more than 3-5 years, that condo in the city may not be the perfect space for too long.
Get familiar with your finances. The chances are that most 20-somethings have thought about a lot of things in college and their finances likely were not one of them. But, if you're serious about buying a home, you've got to know how much money you've got coming in and going out. You also need to know how much you've saved. You may qualify for an FHA loan that will require little to no money down, but you'll still have to shell out money at closing and to buy all the things you want to furnish your first home.
In your 30s…
Think short-term and long-term. When you're buying a home in your 30s, it becomes a little easier to think about what's coming in your long-term future. Do you have children? Do you want children? If you've got them, you may be looking for a larger space that will better accommodate your growing family.
Consider timing. If you're planning to buy a home in your 30s, you may also be planning to sell a home. Unless you are able to handle a couple mortgages at once, you need to think about your timeframe for buying and selling. The best-case scenario is doing both at once, of course!
In your 40s…
Think short-term and long-term. Here, the short-term and long-term are so very different than they were in your 20s and 30s. Many 40-year-olds are already considering what do when their nest is empty. So, while you may have children at home now, if you're planning to buy a new home, you also need to consider a time when they'll be off at college and beyond. What kind of home will accommodate your lifestyle for the long-term?
Factor in finances. Again, your financial picture in your 40s is likely drastically different than it was in your 20s or 30s. If you've got a surplus of funds, you may be considering buying a second home. In this case, you may be asking what you want in a vacation home! If you're gearing up for an empty-nest, you may be considering city life over suburbia. How will your finances dictate your decisions?
In your 50s…
Make a decision about downsizing. At this point in your life, you may be comfortably considering downsizing. Think about what that means to you. Is it less yard maintenance and a life filled with amenities? If so, consider how you'll part ways with any extra space and personal belongings you're used to keeping close.
Linger on location. Whether you're downsizing to a smaller home or buying a second home where you'll spend the bulk of your time, remember how important location can be. Do you want to be close to aging parents or children and grandchildren? Family needs may dictate what could be your future forever home.
In your 60s…
Think about why you're buying. Are you looking to buy a vacation home or income property? Do you simply want to downsize? Determine your motivation before pulling the trigger on another mortgage. For some considering a new home at this time, renting a primary residence where there is no maintenance may be a wiser decision.
Start with Y-O-U. Again, whether you're looking at a vacation home, income property or downsizing your home, don't be afraid to simplify. These days, your life should be more about spending time doing the things you want than maintaining a home or managing tenants. There is no better time than now to put your personal needs and wants at the forefront.
Buying a home at any age requires careful consideration. But, the reasons behind that consideration definitely change with time. Whether you're looking at a home at age 20, 30, 40, 50, 60 or beyond, a trusted Berkshire Hathaway HomeServices The Preferred Realty real estate agent is ready to help you find the perfect home for you. Get started today!