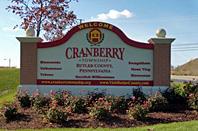 Cranberry Township and Wexford: Come on Over, Baby… and Families, Retirees and More!
Less than a half hour north of downtown Pittsburgh lie two communities that young business people, families and retirees can't resist when they're searching for a home in Pittsburgh: Cranberry Township and Wexford. Now, aside from the fact that several Pittsburgh Steelers and famed musician and former "The Voice" coach, Christina Aguilera, have called the area "home," there are many, many more reasons to reside in the Pittsburgh suburbs.
Cranberry Township and Wexford are an easy commute to Pittsburgh, but, there are actually more people commuting to there for work than there are commuting out. Chalk that up to the various technological, engineering and customer service opportunities in the northern Pittsburgh suburbs. Alcoa, Verizon Wireless and Westinghouse are just three of the township's major employers.
Add retail and hospitality to the list of booming industries in Cranberry Township and Wexford, too. Residents and visitors enjoy numerous shopping and dining options, like big-name department stores, specialty shops and cuisine options that include everything from American, Indian, Chinese and Italian cuisine.
Elite educational options also reside in Cranberry Township and Wexford. Cranberry Township's Seneca Valley School District is one of Western Pennsylvania's top 15 districts and Wexford's North Allegheny is an area academic and athletic leader. Private school options include St. Killian's elementary school and North Catholic High School, which is scheduled to open in Wexford for the 2013 school year.
Though nestled closely to downtown Pittsburgh, residents in Cranberry Township and Wexford relish in their recreational options. Cranberry Township is home to three major public parks and a community waterpark that is hot – hot – HOT! Youth there enjoy a skatepark and animal lovers relax in the township's dog park. Wexford is adjacent to North Park Lake, which draws visitors from across the region.
Quick, convenient access to Pittsburgh's major arteries is just another reason to make Cranberry Township and Wexford "home." Cranberry Township is situated at the intersection of the Pennsylvania Turnpike and I-79 and I-279, which leads directly downtown. Plus, routes 19 and 228 are easily accessible, too.
Find new housing options and historical estates in Cranberry Township and Wexford.
Search available homes in Cranberry Township and Wexford now.