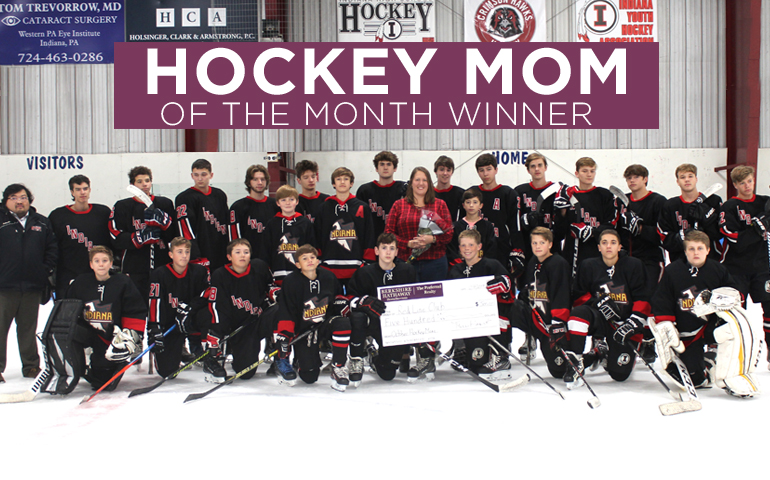 Congratulations to the October 2019 Hockey Mom Winner!
Congratulations to this season's first Hockey Mom winner, Beth Almes-Kobak from Indiana! Our October winner is a mom to two children, Andrew and Paige, with Andrew playing hockey for the Indiana Middle School Ice Team as well as two travel teams, the Johnstown Jets and the Appalachian Elite.


Beth is newer to Indiana's Red Line Club Board of Directors, but she is not new to giving back to the community both on and off the ice. She is the middle school team Business Manager and unofficial Fundraising Director. Beth handles organizing all of her team's fundraising efforts along with all the fundraising efforts of the organization. She does all of this while offering her assistance to individual families who need help offsetting their hockey fees so that every child can play hockey.

Off the ice, Beth is a 4-H Leader running a local 4-H Club in Indiana. She is also very involved in both of her children's activities, her daughter is an avid equestrian, where she regularly volunteers her time.

Since giving back is important to Beth, she arranges and provides opportunities for the Red Line Club players, both middle school and varsity, to volunteer to instill in them the importance of volunteerism. During the holidays, the players assist the Salvation Army with preparing and serving meals at Thanksgiving and at Christmas they wrap and distribute gifts to veterans' homes and the VA Hospital.

Congratulations to Beth on being named the October Hockey Mom winner and giving so much of herself to ice hockey and the community at large.


Do you know a hockey mom that goes above and beyond for her organization and the community? We want to honor her! Nominate your favorite hockey mom at www.pittsburghpenguins.com/hockeymoms to thank her for all her hard work.