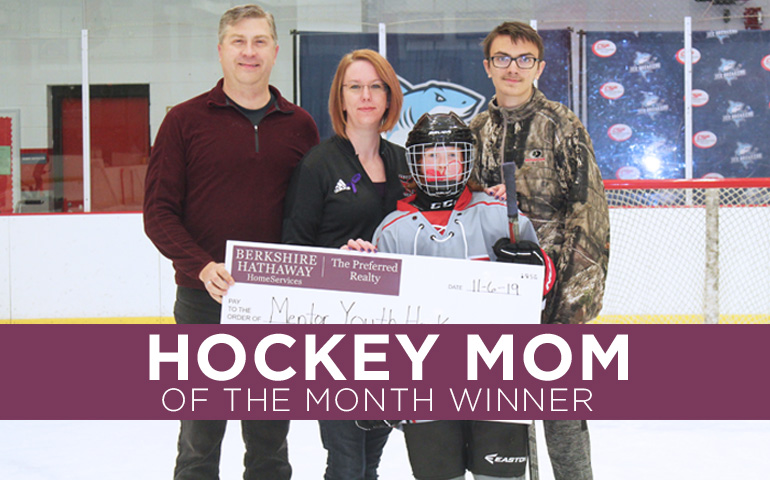 Congratulations to the November 2019 Hockey Mom Winner
Congratulations to our November Hockey Mom winner, Elizabeth Turcovsky from Mentor, Ohio. Elizabeth grew up in a hockey family watching her brothers play, and now is carrying on the tradition with her own son, Kilian.

Kilian plays on one of Mentor Youth Hockey Association's squirt teams where Elizabeth is the team Business Manager – a position she has held for the last two years. As team Business Manager, Elizabeth is responsible for facilitating communication between the coaching staff and the parents of the players along with multiple game day responsibilities to fulfill even before the puck is dropped. Beyond the team responsibilities, Elizabeth has also served as the Corresponding Secretary for the Mentor Youth Hockey Association for the last three years.

Elizabeth's involvement in hockey doesn't stop there. She was also an instrumental part in resurrecting the infamous "Ice of March" hockey tournament – a 20-year tradition. The Ice of March is a tournament spanning three rinks and over 50 teams from throughout the region including New York, Pennsylvania, Ohio, Michigan, Indiana, Illinois, and Canada.

During the day, you will find Elizabeth away from the rink and in a classroom as a special education teacher. A sixteen-year veteran, Elizabeth works with medically-fragile children for Lake County Board of Developmental Disabilities. Her willingness to help her students often extends beyond the classroom helping the families of her students get connected with outside resources including local food banks and additional medical sources.

Elizabeth's goodwill towards others and her love for the special needs community is displayed in her volunteerism. Each month on a Friday night, Elizabeth acts a chaperone so that area special needs adults can have a monthly dance.

Congratulations again to Elizabeth Turcovsky for all that she does both on and off the ice!

Do you know a hockey mom that goes above and beyond for her organization and the community? We want to honor her! Nominate your favorite hockey mom at www.pittsburghpenguins.com/hockeymoms to thank her for all her hard work.