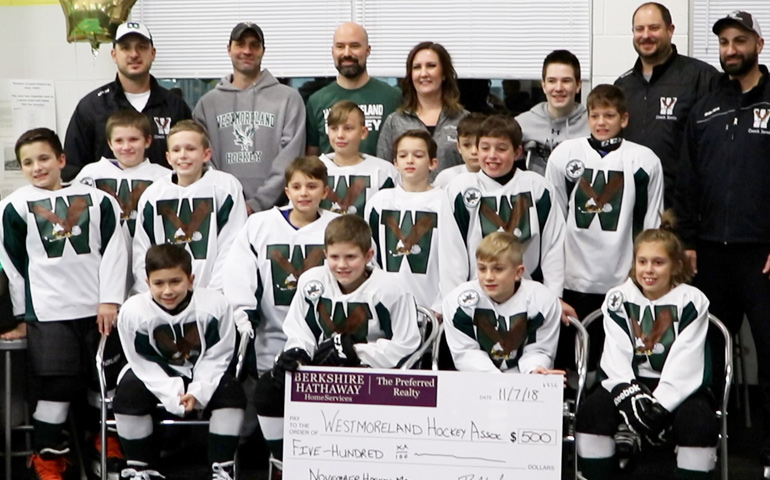 Congratulations to the November 2018 Hockey Mom Winner!
Congratulations to Greensburg native, Mandi Hammond, who was named Hockey Mom of the Month for November. Mandi was described as "always taking care of everyone else", and we can see why!

Mandi is a mom to two hockey-playing sons, Ethan and Noah, who play for Hempfield Area school teams and the Westmoreland Hockey Association (WHA). Mandi is heavily involved in WHA where she devotes her time and efforts to keep the organization a safe, fun place for kids to grow their love of hockey!

Serving as association President for the last three years, Mandi is passionate about improving hockey for every kid. She has introduced countless new opportunities, additional ice time for teams, family events, player development opportunities and has worked to create a family-friendly, fun atmosphere so that everyone feels welcome and a member of the hockey family. Mandi is always available to families whether it is answering emails or helping to a way for families to afford equipment, dues, jerseys ensuring that no child is without. If managing the entire organization is not enough, Mandi is also the Manager of Noah's 10U team.

Taking care of people not only happens on the ice for but also off the ice. Mandi is married to her husband, holds a full-time job as an Occupational Therapist in a local hospital, and is very active in the Harold Zion Lutheran Church. Congratulations again to Mandi for going above and beyond for others in and out of the hockey community!

Do you know an amazing Hockey Mom that deserves recognition? Nominate her for Hockey Mom of the Month at www.pittsburghpenguins.com/hockeymoms. Monthly winners receive roses, tickets to a Pittsburgh Penguins® game, $500 donation to their hockey organization, skate at PPG Paints for the team, and much more!