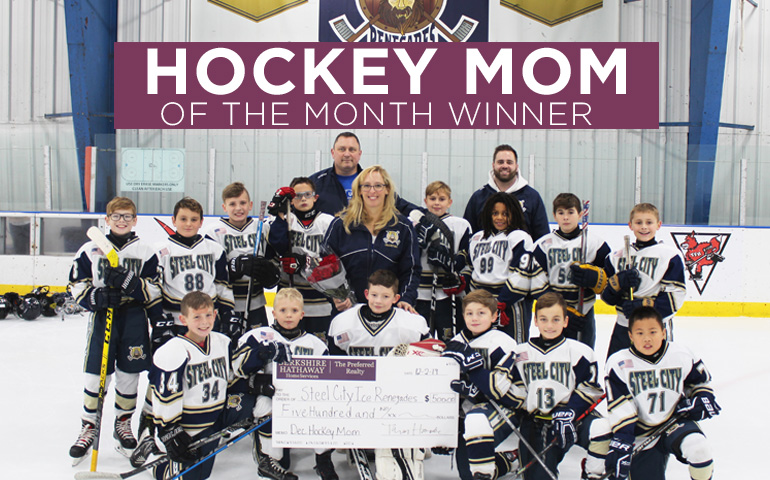 Congratulations to the December 2019 Hockey Mom Winner
Congratulations to Melissa Crawford, our December Hockey Mom winner! Melissa spends many hours at the local rinks supporting her two hockey-playing sons, Jack and James, with James playing for the Steel City Ice Renegades and Jack playing for another organization.

For the Steel City Ice Renegades, Melissa is the Team Manager for the 09 Squirts where her husband, Chad, is also the coach. As Team Manager, Melissa is responsible for the team stats, the game line-ups, score sheets, and finding volunteers to run the clock and work the penalty box. During try-outs, she plays an important role in keeping everything organized so that the day runs smoothly and everyone is informed. The Steel City Ice Renegades Squirts 91 team travels frequently to play in tournaments and Melissa is solely responsible for setting up the tournament schedules, hotel rooms, travel arrangements, etc.

Melissa is not only a hockey mom but also a hockey player. Melissa recently decided to try her hand at playing and joined the Pittsburgh Puffins. The Pittsburgh Puffins are a recreational women's ice hockey team that was initially started in 1998 by hockey moms who wanted to try the sport their children were so passionate about.

When Melissa is not on the ice herself or with her sons, she works hand-in-hand with our veterans at the VA Medical Center in Aspinwall as a Clinical Pharmacist – a position she has held for the past 21 years. Melissa is also an active volunteer for her church, Our Lady of the Mount Blessed Sacrament Church, serving as a Eucharistic Minister along with assisting in the festivals and fundraisers.

Congratulations to Melissa on being named December Hockey Mom. We don't know how you do all that you do!

Do you know a hockey mom that goes above and beyond for her organization and the community? We want to honor her! Nominate your favorite hockey mom at www.pittsburghpenguins.com/hockeymoms to thank her for all her hard work.