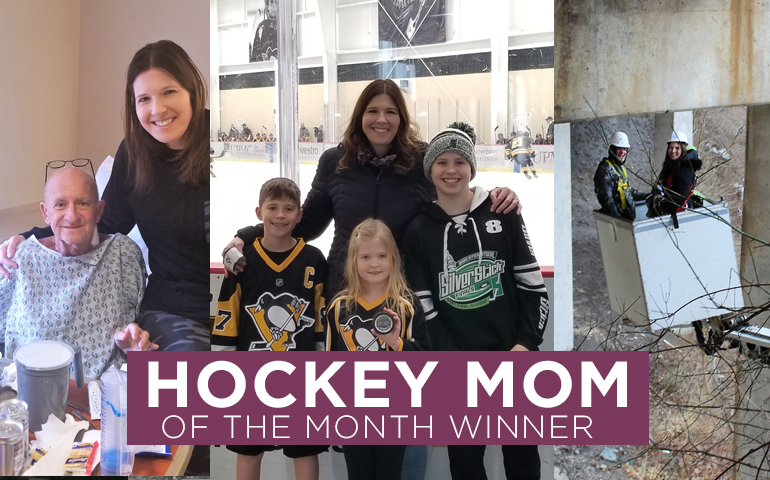 Congratulations to our April Hockey Mom Winner!
Congratulations to our first April Hockey Mom winner, Melanie Berry, from Baldwin!
A mom of three (Teegan, Kaden, and Kylee), Melanie is the Business Manager for her son Teegan's Bantam team with the South Hills Amateur Hockey Association where Kaden also plays.

As a Business Manager for the last several years, Melanie organizes fundraisers, team gatherings, and collects fees needed for tournaments. Beyond those regular duties, Melanie makes sure that the families of the players feel the same support by arranging baby shower gifts, sympathy cards, etc. for important life moments.

During the day, Melanie works full-time as a Civil Engineer where she is responsible for inspecting bridges in the tri-state area. She is also a frequent volunteer at McAnnulty and Whitehall elementary schools where is goes to read books to the class and help with crafts.

What makes Melanie truly special though is that she is always thinking of others. Last year, Melanie found out that her husband's uncle needed a liver donor. Melanie volunteered, and while not an exact match for her family, she was an exact match for someone else. That person's volunteer ended up being a match for Melanie's family, and they performed a newer medical procedure called a liver swap. This was only the second time the procedure was ever done, and it helped to save two lives!

Shortly after the liver swap procedure, Melanie found out that she had breast cancer. But that didn't slow her down! Melanie continued to work, remain involved, and donate her time to others all while actively battling cancer. Recently, Melanie rang the bell after her last treatment, and we couldn't be happier for her.

Thank you Melanie for always thinking of others first and congratulations on being named the Hockey Mom of the Month winner!