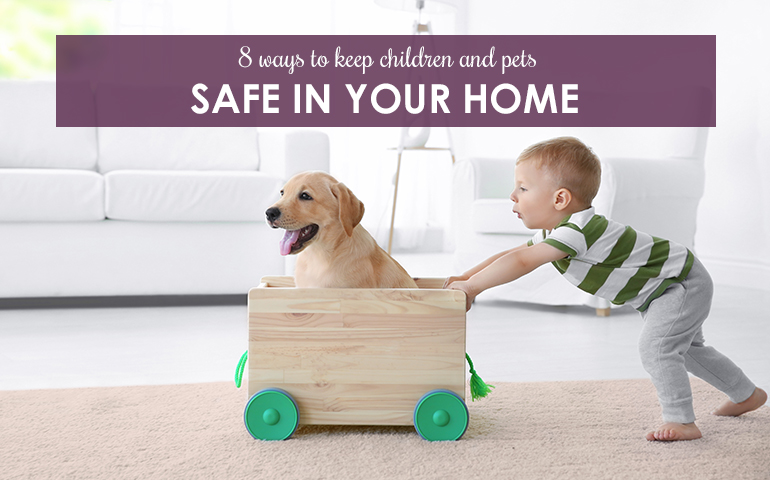 8 Ways to Keep Children and Pets Safe in Your Home
With our spring cleaning tasks just about completed, it is now time to prepare for carefree summer months of enjoying more time outdoors with neighbors, family members, and friends. With summer BBQs and impromptu picnics, there is likely to be more traffic in your home than usual in the coming months. Of course, you want to make sure that all guests, from those with the tiniest feet to those with four paws, stay safe when spending time at your home.

In order to keep everyone from children to pets safe this summer (and all year through), we're offering a few safety tips. Here are eight ways to child- and pet-proof your home:

1. Protect your personal belongings.
This tip is two-fold and will help protect your visitors and your valuables. When you know you'll have a lot of traffic coming in and out of your home, it is a good idea to lock away things of value. This way, no one will get hurt, and nothing will get broken or misplaced.

2. Restrict areas with safety gates.
One of the best ways to prevent children and pets from getting into things they shouldn't be around your home is to install safety gates. Often placed at the top and bottom of staircases, gates not only prevent children and pets from falling, but they also provide a great barrier, restricting access to forbidden areas.

3. Secure unstable furniture.
It is natural for children and pets to run, jump and climb while they play. But when they get a bit rambunctious around your furniture, they run a risk of getting hurt. To prevent items like bookshelves, TVs or other larger pieces of furniture that you might have pushed against your walls from tipping over, it is a good idea to use brackets or anchors to safely secure them.

4. Lock cupboards with child-proof locks.
For every item from cooking oils and spices to kitchen knives, you simply never know what children and pets might try to get into. Prevent them from finding anything dangerous by locking up the cupboards and drawers where you don't want them to peek.

5. Keep medications and cleaning solutions on high shelves.
Just as it is important to keep children and pets away from items in the kitchen, you also want to make sure that any medications and harmful cleaning supplies are far out of reach from little fingers and paws. It is a good idea to keep these items locked away or on shelves without easy reach.

6. Remember to put the seat down – every time!
It might sound silly, but pets are prone to finding any watering hole they can in a home. To prevent them from using your toilet bowl as a watering dish, make a habit out of putting the lid down every time you use the bathroom.

7. Don't keep poisonous plants in the house.
Though they may add beauty and freshen the air in your home, some plants can pose dangers to children and pets. Be sure the plants you're adding to your décor are safe. Opt for greenery that will not poison children or your four-legged family members who just can't keep their paws off.

8. Don't allow children or pets access to electrical outlets and cords.
Newer homes may offer a bit more protection when it comes to electrical outlets, but you don't want to have cords lingering around your home when you have little feet and paws scampering around. Do your best to tuck cords away from areas where children and pets might play inside your home.

Finally, when it comes to keeping children and pets safe in your home, a little common sense can go a long way. Take a few precautions to protect your tiniest and furriest family members and friends, but also keep a watchful eye over them as they play inside your home.