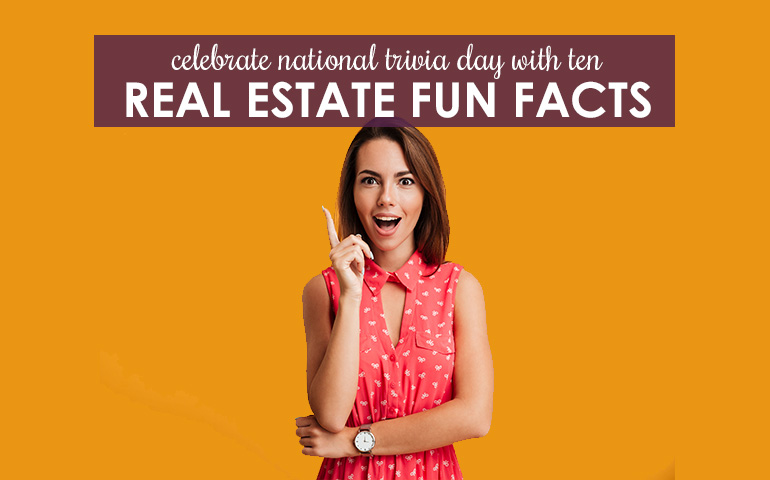 Celebrate National Trivia Day with These 10 Real Estate Fun Facts
Today, Jeopardy fans everywhere are celebrating National Trivia Day. Of course, we couldn't let real estate enthusiasts miss out on the fun! Thanks to Inman and REtipster, we found enough real estate fun facts to win a round of Double Jeopardy! Here are 10 you'll want to share around the water cooler today:
1. How could we not start out with Berkshire Hathaway's very own Chairman and CEO, Warren Buffett? He may be one of the wealthiest people in the world, but he still lives in the same Nebraska home he bought 60 years ago! It's cost at the time? Just over $30,000!
2. Remember our recent tip to add some brass accents to your home? We've got another reason why you should. Metals like brass are antimicrobial and can kill bacteria… so, instead of cleaning your brass doorknob, just let it self-clean!
3. From doorknobs to doors—what does the color of your front door say about you? In some countries, it tells visitors whether or not you have a mortgage! Scottish homeowners are said to paint their front door red when they are mortgage-free.
4. On the other end of the mortgage spectrum, this fact was not so fun for those going through it in 2009. That year, the U.S. had more foreclosures than marriages. Yikes!
5. Even during those bleak times, you could still find affordable real estate… if you were willing to travel to a faraway place. Apparently, an acre of land on the moon costs about $30—less than most dinner dates!
6. Of course, travelling to the moon to find a mortgage is better than turning to a life of crime, right? Well, not if you were Charles "Pretty Boy" Floyd—or should we say Robin Hood? He used to rob banks and destroy mortgage documents to relieve homeowners of their debts!
7. Ok, we all know the market bounced back and homebuyers started building again. But, it didn't happen overnight—unlike some builders in China, who are able to construct 30-story skyscrapers in just half a month!
8. Those talented builders may be able to construct impressive skyscrapers in merely weeks, but could they compete with the architect of New York's Chrysler Building? He secretly built the tower's spire and added it at the very end to win a "world's tallest building" competition. Talk about keeping up with the Joneses!
9. Well, you may be trying to keep up with whatever your neighbors are doing, but people living in developing countries may not even be able to keep up with one room in your home. Some homes in these countries are no more than 75 square feet!
10. Finally, skyscraper or modest abode, it wouldn't matter where you lived if one of the Great Lakes flooded. You'd be out of luck without flood insurance! Lake Superior could flood homes in both North and South America up to one foot high.
If you liked our top 10, continue to celebrate National Trivia Day. Find these and more real estate fun facts at Inman and REtipster.