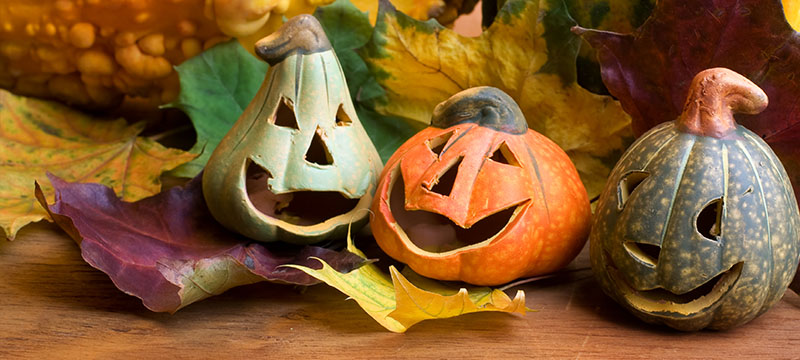 Celebrate Autumn's Arrival with Five Fun Decor Ideas You're Sure to Fall For
Though all of the flip flop-loving, heat-craving summer savorers out there may have tried to avoid it for as long as possible, fall has arrived! Today marks the first official day of the autumn season, so it's time to prepare for pumpkin-spiced everything and a season worth of football-filled weekends!
Of course, the onset of the fall season also gives us a great reason to color-up our home décor to match nature's bright autumn hues. Whether you're planning to list your home or live in it for years to come, adding fall décor is a great way to give your home instant appeal this season.
So, go ahead; embrace the autumn! Here are five fun ideas for beautiful fall décor:
Let Mother Nature Do the Work – It's hard not to be impressed by the colors that Mother Nature shows off in the fall. From vibrant leaves to festive pumpkins, gourds and more, she's worked hard to make her own seasonal décor shine. Don't be afraid to show off her work in your own home. Fall's colors and natural creations are often beautiful enough to stand alone in decorating your home for the season. Combine bright leaves, pumpkins and seasonal flowers into one vibrant fall display – indoors and outside!

Mums (are Still) the Word – The phrase "you can never have too much of a good thing" certainly applies to mums in the fall. They show off bright, festive colors; they require little work; and, they're even an inexpensive way to instantly make your home more autumn-appealing! They're hardy enough to make it through cooler fall temperatures and they flourish in both sun and shade. Once again, mums are colorful, seasonal… do we really need to say any more?!

Pump Up Some Pumpkins – If you're still not convinced that Mother Nature did enough to colorize the fall foliage this year, add to her work by painting or etching into your pumpkins! Design trends are leaning toward combining multiple patterns this fall, so let that trend carry into your pumpkin painting adventure. Grab some bright, metallic paint and stencil some polka dots, stripes or other bold designs onto your fall pumpkins. Etching patterns into your pumpkins is also a crafty way to dress them up for fall without having to scoop out all of those seeds!

"Stalk" Up on Husky DIY Creations – Many people will gather corn stalks for a festive display on their front porch; but, this fall, take it one step further by using corn husks to make a DIY wreath that will be the envy of everyone in the neighborhood. The husks alone provide a festive, neutral backdrop for you to incorporate a ribbon or bow in your favorite colors or even colors that will complement your current home décor.

Lighten Up and Enjoy the Scents of the Season – Finally, you can instantly fall-orize your home décor by creating festive pumpkin or apple votives. Use small gourds or apples and add tea light candles to set the perfect fall ambiance in your home. They make beautiful, natural centerpieces on dining room tables or for buffets during parties. They'll also add a touch of autumn to a mantelpiece or just about anywhere else. As a plus, you may have the opportunity to smell fall's sweet scents without even having to bake anything!
Fun, natural autumn décor ideas may literally be falling onto your doorstop or in your yard right now. Celebrate the season by taking a step outside, feeling the crisp autumn air, noticing the beauty of Mother Nature's hard work and putting it to use for your own home's fall décor!