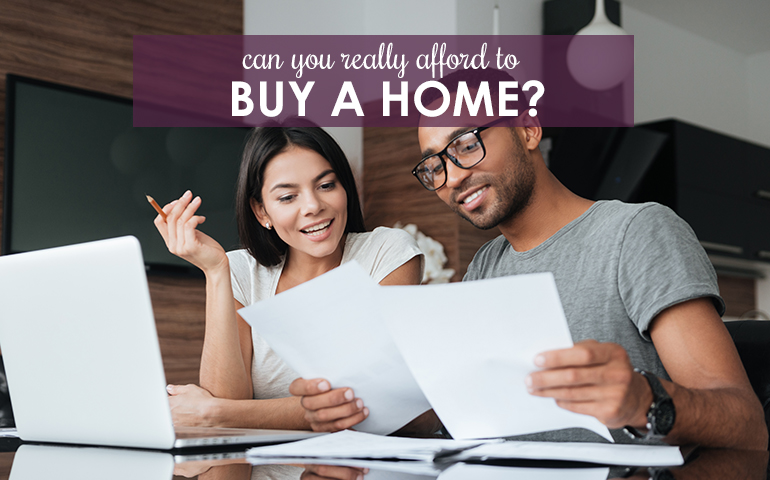 Can you really afford a home? 5 Things to Consider
You've heard all the hype about the hot home-buying market this spring. You're intrigued. You're interested. You want to make a move. But, are you ready? Can you really afford to buy a home? Before you start making offers on homes you love, you may need to consider a few financial things first.
Here are five things to think about before you take the plunge and buy a home:
1. Can I afford the down payment? While some conventional mortgages may no longer require buyers to put a 20% payment down on their new home, it is still a good rule of thumb to have that money on hand. A considerable down payment will ensure you're paying lower monthly mortgage payments and may eliminate private mortgage insurance, or PMI, from your monthly mortgage costs. A larger down payment also may help to let sellers know you're serious and ready to move forward when you put in an offer on a home.
2. Will I be able to cover closing costs? In addition to putting money down on your new home, you also will need to bring some hand money to the closing table. From appraisals to attorneys and inspections to insurance fees, closing on a new home can come with some costs you may not expect. However, when it comes to buying a new home, you can expect to have to pay for these fees up front. Though some closing fees can be covered by the seller, you need to be sure you have enough cash saved up to cover all of your closing fees.
3. What if unexpected repairs come up?
Inevitably, despite even the most thorough of home inspections, you're going to need to pay for some repairs or renovations when you buy a new home. While you're factoring in money for a down payment and closing costs, you should also account for any home maintenance or repairs you may need do upon moving into a new home. Can you afford those extra costs that accompany home ownership?
4. Will I be OK with that monthly mortgage payment?
Just because you've saved up enough money to actually purchase a new home does not mean that you'll be comfortable with the mortgage payment you'll be responsible for each month. This is just one reason it is so important to get mortgage preapproval before entering the home-buying process. However, just because a lender says you can afford a home does not mean that you'll be comfortable shelling out the payment each month. Carefully do your math when determining how much of a monthly payment you can afford.
5. Do I have too much debt?
From car payments to student loans and credit cards too, most Americans are carrying a certain amount of debt. Of course, any outstanding debts you have can contribute to your inability to afford a home. This is something a lender will consider before approving your mortgage, but your debt-to-income ratio is also something that you should consider before deciding to buy a home. If you're already struggling to make any monthly payments, you may want to work on lowering your debt before you try to buy a home.
This post is sponsored by PA Preferred Mortgage:
Pennsylvania Preferred Mortgage is a full-service mortgage banker and is a member of the Prosperity Home Mortgage, LLC family. Specializing in residential and refinance loans, Pennsylvania Preferred Mortgage offers a wide range of mortgage products, including fixed and adjustable rate mortgages, jumbo loans, Federal Housing Administration (FHA) and Veterans Affairs (VA) loans, and renovation financing. Learn more at www.papreferredmortgage.com