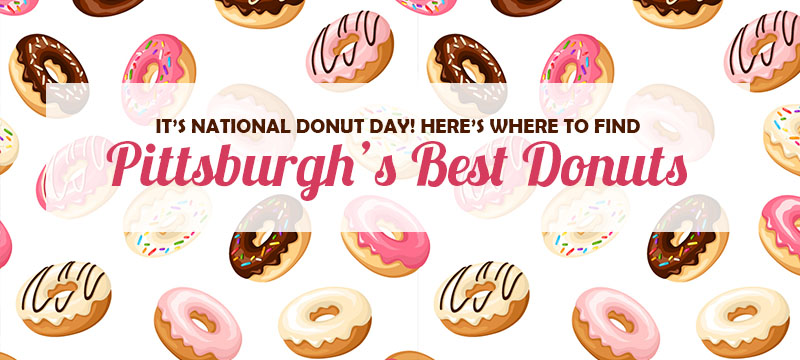 Best Donuts in Pittsburgh
Today is one of those days we look forward to all year long. Yep, you guessed it… it's National Donut Day! For one day (ahem, today) you can let go of your willpower and indulge in what just may be the best thing ever. Better yet, Pittsburgh has some awesome donut shops and many of them are offering Donut Day deals!
Let's dive in...
Peace Love and Little Donuts
These bite-sized, groovy donuts will truly "Feed Your Inner-Hippie." With funkadelic flavors such as Maple Bacon and Raspberry Lemonade, each bite will be truly unique. Plus, because they are mini donuts, you can try several different kinds without feeling so guilty.
Oakmont Bakery
It's no surprise that Oakmont Bakery would have delicious donuts… everything they make is ahh-mazing! To make it even sweeter, they are giving away one free regular donut and offering $1 off a dozen donuts on National Donut Day! Get across that new bridge and grab your donut!
Freedom Farms Donut Shop
The apple fritters and glazed blueberry donuts are totally worth the drive up to Butler! Freedom Farms' Donut Shop offers a large variety of fresh, homemade donuts made with natural ingredients.
Oram's Donuts
The filled donuts from Oram's Donuts in Beaver Falls are an absolute must-have! The flavor of the week is keylime and it will go fast! So, be sure to call and pre-order your donuts for National Donut Day!
Giant Eagle
Let's face it, Giant Eagle makes some darn good donuts! And, they are just as excited about National Donut Day as we are! They are celebrating with BOGO ½ dozen donuts! And, since you'll have so many donuts to spare, maybe you can deliver a few to your favorite real estate agent. (We love donuts!)
Labriola Italian Market
Ciambella means donut in Italian and this Italian Market does ciambellas right! On Fridays, you can get your fix of freshly made cinnamon or sugar donuts at their Monroeville location.
Party Cake Shop
This family-owned bakery in Brookline makes some delicious donuts! In fact, it's been a local donut hot spot since the 1960's!
Mac's Donut Shop
What happens when you combine a cannoli and a donut? Amazingness! Mac's Donut Shop in Aliquippa has some mad creativity! Cannoli Donuts… Heath Bar Donuts… Chocolate Carmel Pretzel Donut… Crème Brulee Donut… Reese's Puff Donuts… seriously, our mouths are drooling!
Better-Maid Donut Company
There's a reason why Better-Maid Donut Company in Crafton Height always has a line out the door! These donuts are out of this world! Fan favorites include the Old Fashioned Sour Cream and the Bavarian.
Prantl's Bakery
One of Pittsburgh's most beloved bakeries, Prantl's Bakery, doesn't disappoint when it comes to donuts! Both their Shadyside and Market Square locations will be stocked up for National Donut Day, but be sure to get there soon because these delightful donuts won't last long.
Last, but certainly not least, is Bethel Park's Bethel Bakery. This bakery makes of some the most beautiful and delectable treats in the city! And, their donuts are no exception! They are taking pick-up orders so be sure to give them a call.