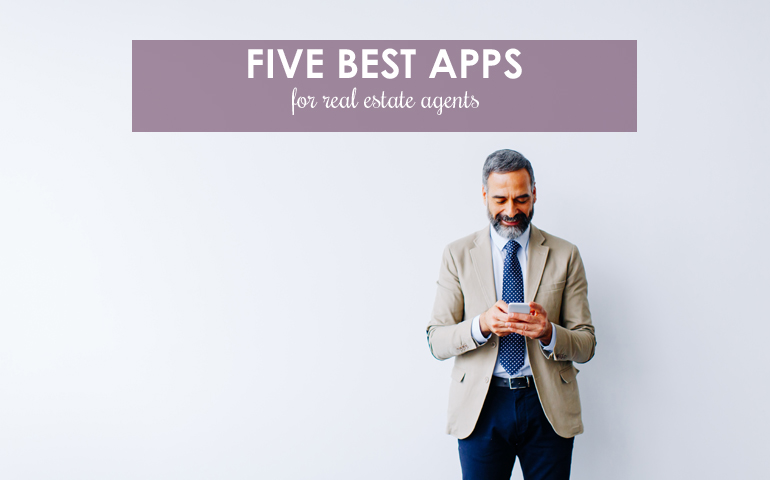 Five of the Best Apps for Real Estate Agents
For a real estate agent who is always on the go, keeping track of numerous showings, closings and other appointments while constantly communicating with clients and other professionals can be quite difficult. Luckily, there is an app for that. In fact, there are quite a few mobile apps out there that can make it much easier for real estate agents to juggle multiple responsibilities—and deliver stellar service. If you've got your smartphone in tow, using apps can help you stay connected no matter where you are.

Here are five of the best apps for real estate agents:

1. DocuSign
Thanks to this app, real estate agents no longer need to schedule an appointment to have contracts signed. Instead, agents can simply send their clients documents via email and have them signed electronically. With DocuSign, a task that used to take days can take mere hours or even minutes. Talk about a major time saver!

2. RPR Mobile
This app was created to help real estate professionals search properties and view local market activity. It also allows agents to gather greater details, like tax information and historical data, to create reports for clients. RPR Mobile was tailor-made for real estate professionals and pretty much allows you to complete your work—from anywhere!

3. Facebook
By now, you surely know the value that social media can provide for your business. With tools to manage ads, post listings and communicate live with an audience at any time, Facebook is a strategic tool for any real estate agent. Don't underestimate the power of this app, perhaps once only used to connect with old friends or roommates. Use Facebook to fuel your business!

4. RealScout
This agent-friendly app is a great way for real estate professionals to connect with new clients and make sure they're sending information about properties that clients are interested in—at all the right times. RealScout helps agents send branded information to clients to keep communication flowing throughout the real estate process.

5. Zapier
Talk about an app that can help you multitask! Zapier allows real estate agents to connect their web apps and create a workflow that cuts down on paperwork and busywork! Once you've created a workflow, you can rely on Zapier to help you add new leads to your email subscription list or disperse buyer and seller information for you—plus a whole lot more. How is that for multitasking?

When it comes to thriving in the busy real estate industry, embrace the technology that is tailored to help you. In the case of these five mobile tools for real estate agents, you'll be app-solutely glad you did!