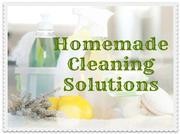 Attention Sellers: Move Your Home with a Little Maintenance
Of course, you love your home – but, when you're ready to list it, what can you do to make sure potential buyers feel the love, too? It may sound simple, but some basic maintenance can make your home shine and actually may attract more buyers, particularly in a competitive market.
Don't worry; basic maintenance does not mean adding expensive upgrades like a new roof or renovated kitchen. Here are a few inexpensive ways to make sure your home is maintained to move on the market:
First things first… start outside!
Make sure the grass is always greener on your side of the fence by keeping the lawn cleanly cut and well watered. Don't forget the shrubs and flowerbeds, either. Trim hedges back and make sure your flowers are brightly showing their colors.
If you weren't planning to do it this year, you may want to consider resealing an asphalt driveway. It's an easy and relatively inexpensive way to give, even an old home, that "new" feel. You may also want to add some lighting to your landscaping to illuminate your home for potential buyers who may cruise by for a night-time view.
Hide the clutter! It can be as easy as making sure your garage door remains closed while your house is on the market. But, if you've got the family RV, your weekend auto project or anything else in the yard obstructing the view of your home, you may want find somewhere to store your hobbies.
You've lured the buyers in… now what?
A clean home is a happy home, especially when the home is for sale! When a buyer sees a clean home, they can see many things, like usable space where they can imagine themselves living, entertaining or raising a family. So, just like you did outside, get rid of the indoor clutter and show off your home's best assets.
Although you should remove clutter and possibly even those photos from last year's beach vacation, another way to cleanly showcase your home is by staging a room or two. You can easily do this yourself by finding some bargains on Craigslist or by hiring a professional to bring in just the right pieces.
While that deep green accent wall in your kitchen seemed like a great idea (and perfectly matched your motif), think neutrals when you're trying to attract buyers to your home. Give potential buyers a blank canvas to turn your home into the home of their dreams.
Keeping your home well-maintained inside and out is a great way to attract potential buyers. If you need to make other improvements to your home before listing, check out our Home Improvement Service.