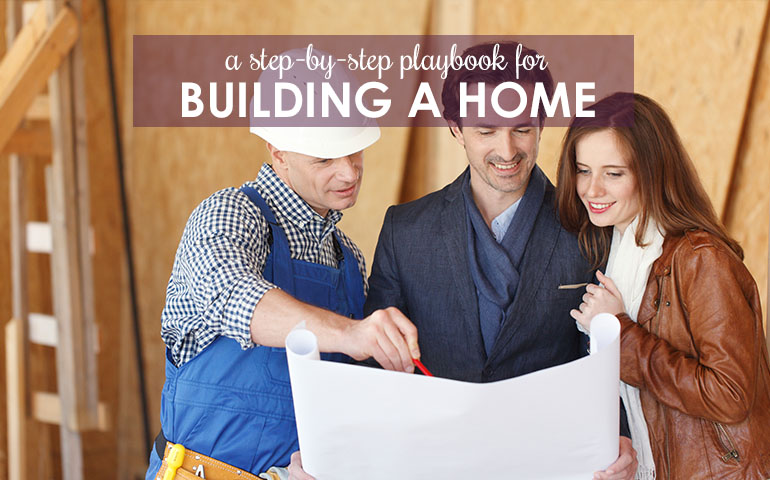 Before You Kickoff the Home-Building Process, Check this List!
With all the hype surrounding the start of football season, a home team win may have you feeling a bit antsy about a personal project kickoff. If you're about to tackle the task of building a new home, you may want to consult a professional's playbook before facing off against the home-building process.
Building a home can be a difficult task, whether it is your first time or your fifth time! For that reason, we're providing a home-building checklist that will take you from kickoff to closing!
The First Quarter: Financing
As with any home-buying process, you've got to get your finances in order before entering the home-building process. Unless you've got ample cash, you're going to be ending the build process with a new home—and a new mortgage. With that in mind, be sure to be familiar with your credit. If you know that it is less than stellar, work on boosting your credit score before trying to build.
Though the building process will vary with each builder, it is very likely you'll have to put money down to secure your construction. Make sure you've saved up enough money to cover your down payment, closing costs, moving expenses and any extras you may want to add or buy along the way.
Finally, when it comes to financing a new construction, be sure to shop several lenders before you decide what mortgage option may be best for you right now—and in the future.
The Second Quarter: Landing the Right Model
Maybe you chose your builder when you were lining up your finances. If you didn't, you should start scoping out local builders now. Check out any of their planned neighborhoods or recently completed homes to find the one that seems best for you.
If you decide to build a home in a planned development, your builder will likely have different lots for you to choose from. Consider proximity to any playgrounds or other amenities you may want or need on a regular basis.
Once you decide on the right lot, you've got to pick the home you want. Tour model homes to find a floor plan that will fit your needs. Find out what comes standard indoors and outside. Things like a finished basement, patio or deck may be large expenses to pay for upfront after you move in.
The Third Quarter: Maintaining Your Lead
Once you've selected your home and all the amenities you'd like to have in it, patience can be the key to a successful build process. Remember that it takes time to build a home and that plumbers, electricians and other service professionals don't always work on your schedule. Minor setbacks are likely when you're building, but those little fumbles won't cost you the game—or your new home—as long as you can remain patient during the build process.
Rely on your builder's expertise and don't be afraid to ask for project updates throughout your construction. However, keep in mind that if you ask for more—like upgrades or other changes to your home construction—you could be your own worst enemy. Changing your mind mid-build can cost you time and money when it comes to construction.
The Fourth Quarter: Bringing Your New House… Home!
When the end of your home-building process is drawing near, you'll complete inspections, appraisals and other closing procedures that are very similar to the closing process involved in buying an existing home. You'll also secure final mortgage approval and prepare to sign your closing documents. Be sure to find out how much money you'll need to bring to the closing table. With a trusted real estate professional by your side throughout your build process, you'll feel like a home-building MVP all the way to move-in day!
Ready to start the home building process? Check out new construction plans in Southwestern PA now!