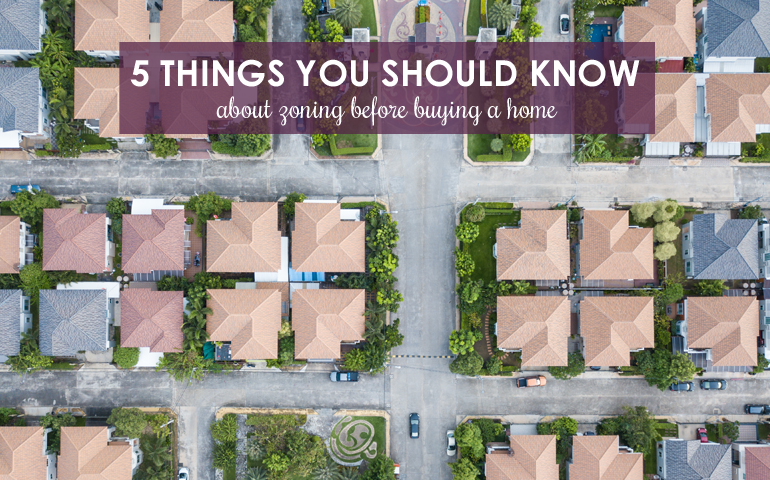 Five Things You Should Know About Zoning Before Buying a Home
For many people, buying a home is all about falling in love with a property that has all or most of the features on their needs and wants list. Things like the number of bedrooms and floor plan, and options like hardwood flooring and granite countertops, can be deciding factors when it comes to a home. Once you're satisfied that you've found the right property, it is common for your mind to head straight to closing and how you'll further customize a house to be your home.

But don't move too fast. One critical home feature is often overlooked by buyers—residential zoning, or the uses that are allowed (or not allowed) based on how the land has been divided. Zoning may not be something that affects you on move-in day, but you could find that zoning regulations can prevent you from making certain upgrades or even parking some vehicles at your home.

Here are five things you should know about zoning before you buy a home:

1. Zoning regulations exist everywhere.
Just because you may not consider zoning when you buy a new home does not mean that the regulations do not exist. In fact, any home you purchase comes with zoning rules. As a buyer, it could be up to you to find out what area zoning regulations may mean for your future home.

2. Zoning can limit the way you use your home.
If you think zoning regulations might not affect your home purchase, then you should know everything that zoning can cover. For instance, if you buy a single-family home with a mother-in-law suite, zoning regulations could prohibit you from renting out that extra space. If you own a home business, zoning laws might say that you cannot mix your home and business. For some buyers, this information is could be a deciding factor in selecting a home.

3. Zoning regulations could prevent you from adding on to your home.
The way your home has been zoned could play a role in whether you can build an addition or even build a smaller home on a current site. Zoning laws can cover how high your home can be, how close to the property line your home can be and total square footage. If you have alternate plans for a home that you want to purchase, make sure they are within area zoning regulations.

4. Zoning can prevent you from parking certain vehicles at your home.
Homeowner associations (HOAs) can restrict the types of vehicles a person parks at their home. Even if you're moving into an area with no HOA, zoning regulations may have a say in whether you can park a commercial vehicle or even a boat in a residential area.

5. Zoning laws can even impact how you take care of your yard.
This zoning regulation crosses into HOA territory, too. In some areas, zoning requirements can dictate the types of landscaping you can have in your yard. This restriction may not be a deciding factor for all buyers, but it certainly is something you might want to know about a home.

Before you deem a certain home "the one," be sure to check local zoning regulations. You'll want no surprises as you get settled into your new space. Find out more about an area's zoning regulations by contacting your local municipality.