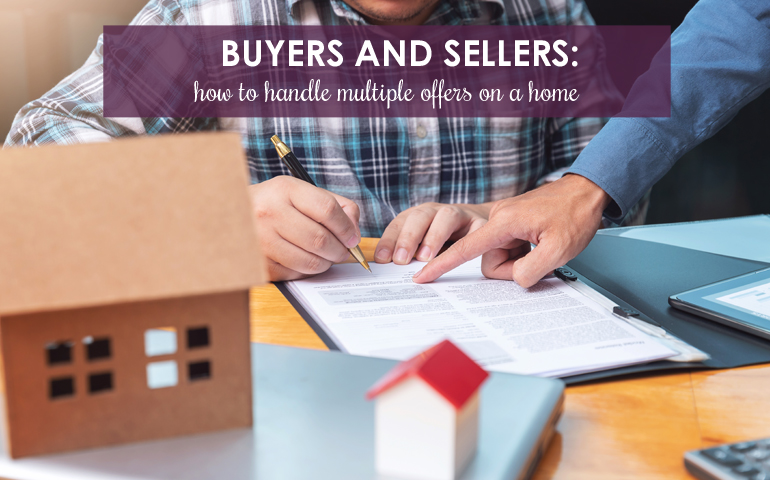 Buyers and Sellers: How to Handle Multiple Offers on a Home
With the passing of Valentine's Day and the upcoming spring home-buying season, it pretty much goes without saying that love is in the air for homes currently on the market. With all that affection toward available homes, many buyers and sellers might find themselves in a multi-offer situation this spring.

In this instance, what a seller favors, a buyer might dread. So, we're offering a bit of advice for any party that might be facing multiple offers during the upcoming heated home-buying season.

Sellers—prepare to deal with more than you might have bargained for—in a good way!
When a seller lists their home, their first hope typically is that it sells in a short amount of time – and at or above the price they are asking. So, a seller who is faced with multiple offers is probably also facing a few good—but tough—decisions.

If a seller is looking for simplicity, they might opt for accepting their best offer. This way, they will deal with only one buyer. If a seller is interested in entertaining multiple offers, they might opt for letting buyers know there are other offers on the table and allowing them to counter their initial offer in hopes of landing in that coveted "best offer" spot.

Sellers can rely on their real estate agents for professional advice, but the decision as to which offer to accept (or reject) is ultimately left up to the seller.

Buyers—prepare to do some convincing to get the home you're competing for.
OK, so we know that sellers might see multiple offers as an opportunity—and rightfully so. What can a buyer do to make their offer stand out among others? In order to secure a home with multiple offers, buyers need to make their offer shine as the best—even if it might not be the highest offer. And, luckily for buyers, there are a number of ways to do this.

Sometimes, a seller might simply be looking to make the most from their home. In this case, buyers need to submit their very best offer in hopes that they are the highest. But some sellers are facing other contingencies, so doing things like offering a longer (or shorter) closing period could sway a seller in a buyer's direction.

If a seller has already dealt with a few buyers, they might simply be looking for a buyer who can prove they are qualified to purchase their home. Here, buyers can show off loan preapproval, put down a large earnest deposit or make a sizeable down payment to prove they are serious about a home.

If a buyer has done everything they financially can to put their best offer forward, there is another way to appeal to a seller who is entertaining multiple offers. Buyers can try to strike an emotional connection with a home's seller. Sellers want to know that the house they've spent time making their "home" is going into the hands of a buyer who will treat it right. If a buyer writes a personal letter to a seller, explaining the things they love about a home and how they envision building similar memories there, that personal touch could be enough to entice a seller to choose their offer.

As the spring home-buying season heats up, many buyers and sellers could find themselves in a multiple-offer situation. If you have any questions as you're buying or selling a home this spring, contact one of our trusted agents for professional advice and help with your real estate transaction.