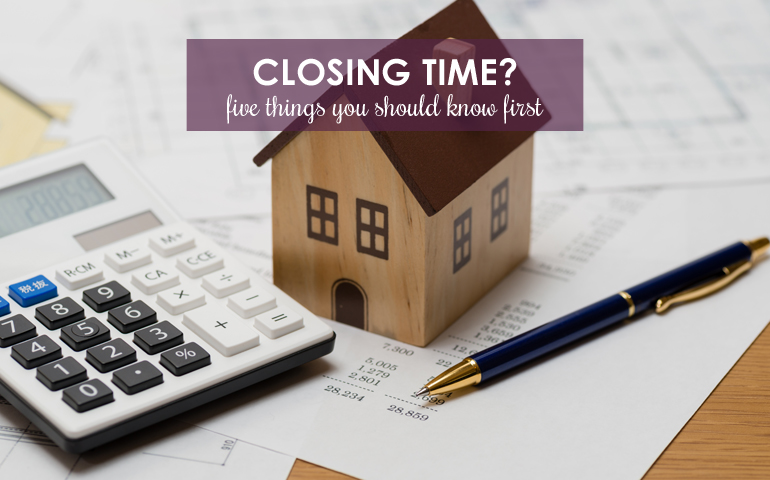 Closing Time? Five Things You Should Know First
So, you're buying a home. You've applied for financing and saved enough money for a down payment. You've made an offer that's been accepted. You've gone through all the necessary home inspections and appraisals. It's time for closing. What a relief!

But did you know that this exciting last chapter of the home-buying process comes with a few fees? Closing costs include everything from property taxes and mortgage insurance to title and attorney fees, which can amount to thousands of dollars you might not have been expecting to pay before buying a home.

Your mortgage lender should disclose an estimate of your closing fees to you long before you get to the closing table. But with so much going on during your home-buying process, it can be easy to overlook these fees until you reach closing day.

Instead of simply trying to forget about your closing costs until it is time for your final signature before you buy a home, learn a little about your closing costs, so you can understand them and prepare to pay them.

Here are five things to know about closing costs:

1. You may need to save money for your closing costs.
When buyers go to purchase a home, they are typically aware that they will need to save money for a down payment. Buyers probably even realize they'll need extra money for moving costs and other new home expenses. But buyers do not always consider closing costs when they decide to purchase a home. Because closing costs can be thousands of dollars, home buyers should plan to save money to designate to these necessary fees.

2. Closing costs are typically 2% to 5% of your loan amount.
Yep, that's right. Closing costs are not the same for every buyer. Your closing costs will vary based on your lender and the sales price of your home. The more your home costs, the more expensive your closing costs will be. Know that your lender will be able to estimate your closing costs and that you are free to ask questions about what you're paying for.

3. Closing costs can be paid by either the buyer or seller.
Well, here's a major wrench in the works when it comes to closing costs—but it could work out for a buyer or seller. Although closing costs are unavoidable, it is possible that a home's seller will pay for a buyer's portion. This type of agreement can be negotiated when you make an offer on a home. In this instance, you'll face no surprises at closing, because your seller will absorb closing fees.

4. The fees that make up your closing costs can be negotiable.
Not only are closing costs negotiable between a buyer and a seller, but the actual fees (in some instances) are negotiable too. Of course, your loan origination fee is not going away, but things like an assumption fee or certain title fees may be negotiated. Remember, when it comes to your closing fees—it simply doesn't hurt to ask if you don't understand what you're paying for!

5. You'll receive estimated closing costs with your loan estimate, but final costs are determined just days before closing.
You already know that loan preapproval does not guarantee final mortgage approval. Similarly, the closing costs estimate your lender gives you when you apply for a mortgage may not be the same amount you are required to pay when it comes time to close. The amounts should not vary greatly, but you should be aware that you may see a few changes in the costs as the closing day approaches.

The bottom line when it comes to understanding your closing costs? Ask questions! Your lender will be able to explain all the fees associated with closing on your new home.