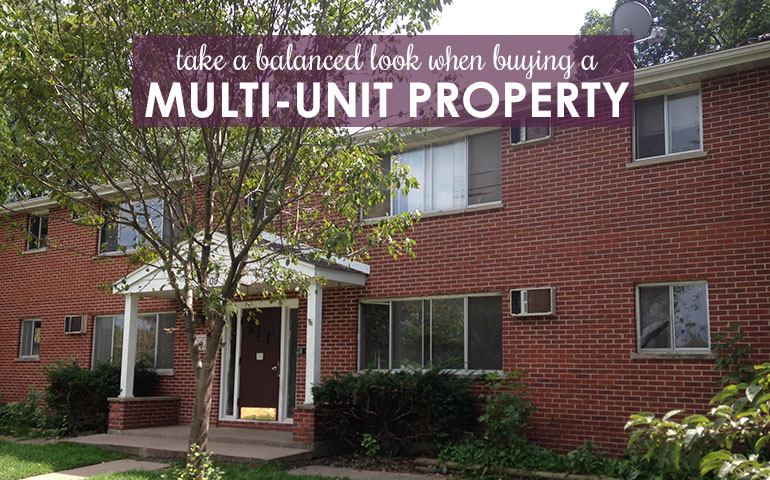 Take a Balanced Look Before You Buy a Multifamily Property
If you own a home, there is no doubt you remember the feeling you got when that first pair of "new home" keys were handed to you. Can you imagine multiplying that feeling by two, three, four or even more?
For multifamily property owners, that feeling is a reality. Buying a multifamily property means that you are taking ownership of one or more units within a property at a time. But, that doesn't mean buying a multifamily home is for everyone. As with any major decision, there are several things to consider before plunging into multifamily property ownership.
Here are three top reasons to buy a multifamily property:
Less paperwork during the purchase
When you buy a single-family property, you'll apply for one mortgage and one insurance policy. The same goes for buying a multifamily property. It doesn't matter if the property you select has one or 10 units, you'll only need one mortgage and one insurance policy. And that means less paperwork for you!
Fewer competitors
In a hot real estate market, increased competition can make it difficult to find and buy the home you want. But, that typically doesn't apply when it comes to multifamily purchases. Even during the hottest of real estate seasons, there usually are less investors vying for the same multifamily properties. Less competition is another win for you!
Instant return on investment
When you buy an income property, it can take a certain length of time to recoup your investment costs. With a multifamily property, buyers stand the chance of beginning to profit at a much quicker pace than those who buy single-family homes as investments. More units can mean more opportunities for profit.
Of course, buying a multifamily property isn't only about the perks. Here are three cons to buying a multifamily property:
Fewer options
Though less competition is an obvious perk when it comes to buying a multifamily property, that perk goes hand-in-hand with fewer buying options in most cases. The fact is that there are more single-family properties for sale out there than multifamily properties.
Higher prices
It only stands to reason that a property with three or more units will cost more than a single-family property. If you're considering a multifamily property purchase, you should expect a higher sticker price. Will that higher selling price be worth it for you?
Management issues
If you had concerns about becoming a landlord, don't forget that owning a multifamily property will require you to become a landlord—multiplied by the number of units your property contains! If you are apprehensive about this role, you may want to consider hiring a professional to handle the property management duties.
In addition to these pros and cons, there may be other rules and regulations to follow when you purchasing a multifamily property. But, there is help. An experienced real estate professional can guide you through the process of investing in a multifamily property.