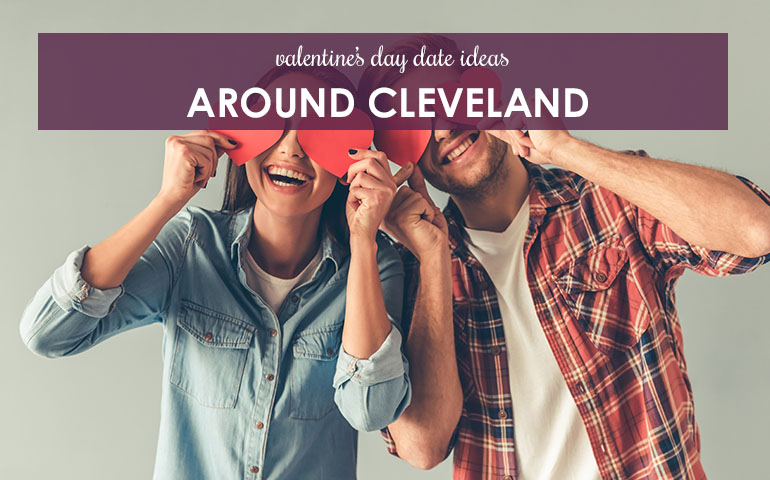 Valentine's Day Date Ideas Around Cleveland
Valentine's Day is right around the corner, which means it's time to come up with date ideas for and your partner. Maybe you and that special someone already have Valentine's Day traditions, or you and your new flame are looking to make new memories. Events are happening all week, before and after the holiday, to help you celebrate!
Step back in time and pretend you are Daisy Buchanan and Jay Gatsby at Cleveland's famous speakeasy! Spend the night at Society Lounge enjoying hand-crafted cocktails and tapas with your loved one.
Nothing says romance like holding hands while skating around an ice rink, and Cleveland boasts two fantastic options. Head to the Cleveland Foundation Ice Skating Rink in Public Square, open daily, and enjoy the views in the heart of the city. The $10 per skater cost includes skate rentals. You can also head to University Circle, The Rink at Wade Oval is open Fridays, Saturdays and Sundays, in addition to a special Valentine's Day Skate February 14 from 4-8 p.m.
Want dinner with a view? Bar 32 is the newest go-to spot in Cleveland for a romantic dinner! Take the elevator to the 32nd floor and enjoy fresh seafood delights, hand-selected charcuterie and cheese from around the world along with various nibbles in a contemporary space.
If you are looking for a sweet treat after dinner, look no further. Malley's Chocolates is a city staple and offers some of the best chocolate in the country. With 22 locations across Northeast Ohio, it's easy to purchase sweets like Malley's delicious chocolate-covered strawberries or grapes for an after-dinner treat.
Get your heart pumping and hit the streets for the second annual Love Run. This kid-friendly event is a great way to get out of the house and celebrate Valentine's Day with your whole family! The Avon Lake 5K run and 1K walk is the perfect warm-up ahead of Valentine's Day. Even better, after you cross the finish line there's a chocolate fountain breakfast waiting for you!
What is more romantic than Jazz music? An evening of romance awaits you at the Kent State Performance Art Center. Take this opportunity to dress up and watch the Cleveland Jazz Orchestra perform new compositions from new and veteran artists. Make the night complete by going to dinner before the show and maybe even stop for drinks and dessert after! Tickets start at $27 and the concert begins at 7:30 p.m.
With so much to do in and around the city of Cleveland, you and your Valentine will need more than just one day to enjoy everything. Our advice? Get started this Valentine's Day, but let your date-night fun in North Eastern Ohio continue throughout the year!