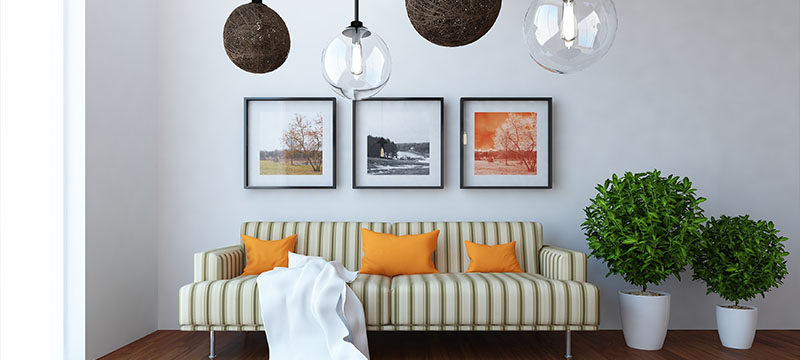 Resolve to Try One of These 10 Home Trends in 2017
The beginning of the year is always a great time to adopt the "out with the old, in with the new" mentality for everything from barely-worn clothes to rarely-used toys to, even, rapidly-fading home décor fads.
How can you make sure that you're tossing the tacky and taking on the trendy when it comes to 2017 home décor? With our help, of course!
Here are 10 of 2017's hottest home trends:
1. Greenery: When Pantone talks, home décor listens! The 2017 Pantone Color of the Year, "Greenery," is a representation of refreshment and revitalization. Let's face it; nothing says "New Year, new you" like a little revitalization! Bring this yellow-green shade into your home in a big way in 2017. Think walls, furniture and accents!
2. Mixed Patterns: And, we're not just talking mixed greens to complement the latest Pantone color, either. 2017 is daring homeowners to be bold! Instead of one brightly-hued, patterned accent piece, dare to do a little mix-matching and be pleasantly surprised with the eye-catching result!
3. Textured Materials: When it comes to mixing things up with your home décor this year, don't just stop with the patterns. Texturize your furniture, too! Try a soft velvet or pleated piece to bring instant comfort into an otherwise cold atmosphere.
4. Marvelous Marble: There's not a chance that kitchen and bathroom remodels are going out of style this year; but, they are seeing a new face in the form of marble! It looks great with wood, metal and so much more. Marble may be the new granite when it comes to crave-worthy kitchen upgrades in 2017!
5. Subway Tile: Though it is not a new trend in kitchen remodeling, subway tile certainly is one that has got some staying power in 2017. It's beautiful, budget-friendly and – again – 2017 dares you to take subway tile to the next level! Think far beyond the backsplash!
6. White Kitchens: Why not select a bold subway tile when another hot 2017 home décor trend is white cabinetry? It is classic and pairs well with pretty much anything. Keep this kitchen décor mainstay from becoming too mundane by choosing a few of 2017's other design trends (See numbers 1, 4 and 5!).
7. Laundry Room Lifts: In 2017, it is time to get out of the kitchen (and bathroom) and into the laundry room. No, we're not talking about bettering your weekly laundry routine. Though, if you take 2017's design tip and add a little light, better storage and mega-functionality to your laundry room, you may just want to spend more time there! It is time to make laundry room luxury a priority in 2017!
8. Smart Features: Since functionality seems to be a feature in 2017 home décor, it should come as no surprise that smart technology is taking over when it comes to design trends. Think furniture with charging docks already incorporated; and, say goodbye to that tangled mess of cords you're currently sporting.
9. Pendant Lighting: Much like the trend toward smart features, pendant lighting may lead the way toward more space for your technology in 2017. Instead of crowding nightstands and other areas with table lamps, why not dangle pendant lighting overhead? This is an even better idea in rooms where space is at a minimum!
10. Less DIY: The powers that be at Pinterest may disagree, but it seems that 2017 will steer away from transforming that extra pallet into a bench or garden box. Skilled woodworkers and craftspeople may be happy to know that an appreciation for artisan materials is taking over. So, take a break from all of that DIY and support your local artists by picking up some original pieces for your home this year!
Haven't set your mind on a home-style resolution this year? After you're done tossing your barely-worn and rarely-used items, choose one (or more) of the year's design trends. They're sure to be far from fading during 2017! Here's to a New Year full of superb style and hot home décor!