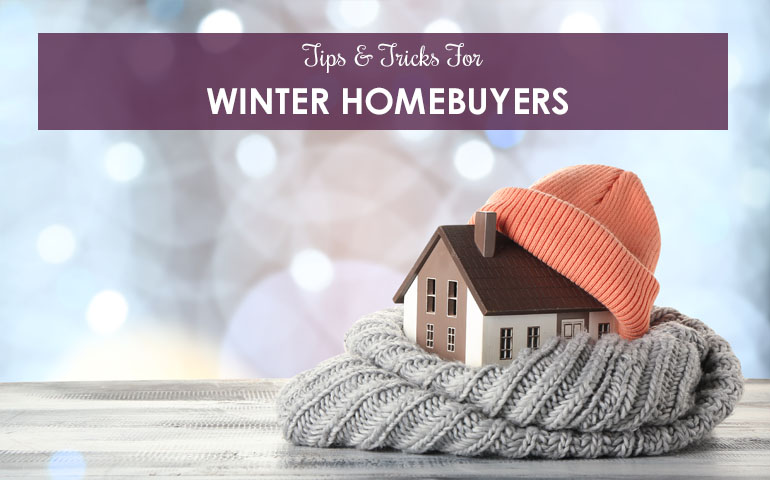 Tips and Tricks For Winter Homebuyers
It's a common belief that the spring and summer seasons are the best to purchase a home because the real estate market tends to slow down in the winter months. While statistically this is true, purchasing a home during the winter season is still possible! There are many benefits to starting your home search when the temperature drops. If you are ready to start your search, follow these tips to make the home search go as smoothly as possible!
Don't Get Discouraged
Typically there are more homes for sale during warmer seasons like spring and summer, but that does not mean a buyer cannot find the right home during winter. Inventory could be lower, but sellers have plenty of reasons to list during winter. So, the right home for a buyer absolutely could be available – even during the coldest season of the year.
Take Advantage of Limited Competition
Just as there might be fewer homes for sale during winter, there are also typically fewer buyers looking for new homes. So, if you're a serious buyer, winter might be the perfect time for you to find the right home. What could be better than not having to face a bidding war on the home that you want? We can't think of many things when it comes to real estate!
Be Flexible
If you're looking to buy a home this winter, the thought of snow and ice might deter your spirit. So, don't be surprised if Mother Nature hampers your home search this winter. Instead of getting frustrated, be willing to work around the weather when it comes to showings, open houses and even going to close on a new home.
Don't Wait Too Long!
During winter, there may be fewer buyers looking for homes. But, there also may be fewer homes to choose from. What does that mean when you want to buy? It means that you shouldn't wait to make a move on a home you LOVE. You may not be facing any bidding wars this season, but you could still lose out on a home you want if you wait to make an offer.
Enjoy The Extra Attention
Because there are traditionally fewer homes on the market and fewer people looking for homes in winter, buyers are able to enjoy a little extra attention from the service professionals who assist with their sale. Yes, everyone from your home inspector to your lender to your real estate agent may have just a little more time to cater to your home-buying needs during winter. Enjoy that additional attention on your way to your new home!
If you are ready to buy a home this winter, the next step is to find a real estate agent. To connect with a top-notch agent that specializes in finding dream homes, visit our website to get started!