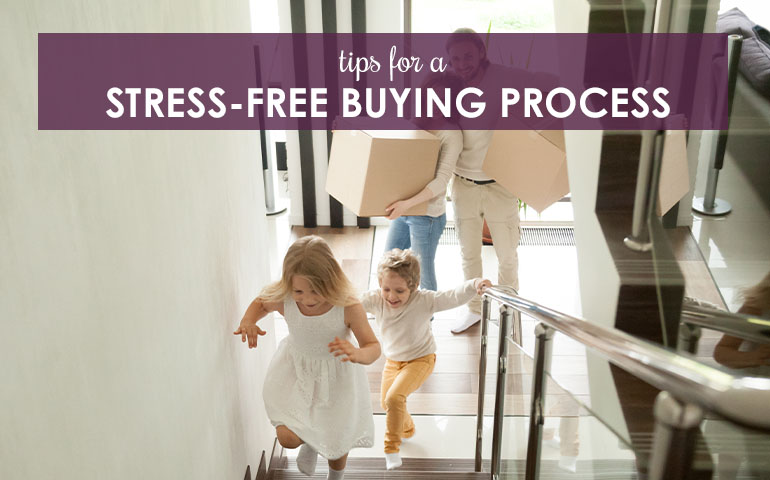 Tips For a Stress Free Buying Process
Whether you are a first-time home buyer or a seasoned moving professional, the home buying process is stressful. It's a complicated process involving both strong emotions and what may be the biggest financial investment of your life. In the process, a lot of times things do not go how you expect and are beyond your control. However, there are ways you can minimize the stress involved and get through the process with fewer bumps in the road. Listed below are five steps to make your home buying process less chaotic.
1. Have an Idea of your Wants vs. Needs in a Home
There are a lot of things to be considered before buying a home. One of the first steps is determining what you need in a home. During this time, be open with your agent and tell them your wants vs. your needs. You don't want to waste time looking through homes that you are not interested in. Being upfront with your agent about what you want can narrow down the listings and speed up the home buying process.

2. Be Flexible
Unless you are building from the ground up, the perfect home does not exist. Learn to be a little flexible when it comes to what you want in your new home. If the home comes in under your budget, you can use that money to make renovations on the home after purchase.
3. Get a Mortgage Pre-approval
Securing a mortgage can be a complicated and timely process. When you are preapproved or prequalified for a mortgage, you gain an advantage and have the opportunity to bid on the home you would like to purchase before buyers who are not as prepared. Getting a mortgage pre-approval could be a good idea because it gives you an idea of exactly how much you will be approved for. It will also save any headaches or heartaches of not getting approved once you have found your dream home.
4. Listen to your Agent
Your real estate agent is here to help you. Taking the advice of a trusted professional when it comes to buying a home will become beneficial to you in the process. Things can get complicated, so just sit back and know that your real estate agent has your best interest at heart.
5. Save for the unexpected
Buying a home can lead to a lot of unexpected expenses. From closing costs to moving expenses along with your down payment on a home, there are a lot of added costs to think about. Our agents will even give you a detailed list of closing costs to make things go more smoothly. When you think you are ready to buy a home, it would be a good idea to sit down with a financial advisor to determine if you are financially ready to make such a big purchase.
Buying a home can be an exhausting process. From getting a mortgage to a home inspection, there are many things to worry about. With these steps and the Berkshire Hathaway HomeService The Preferred Realty team, we will make sure your move is as smooth as possible.