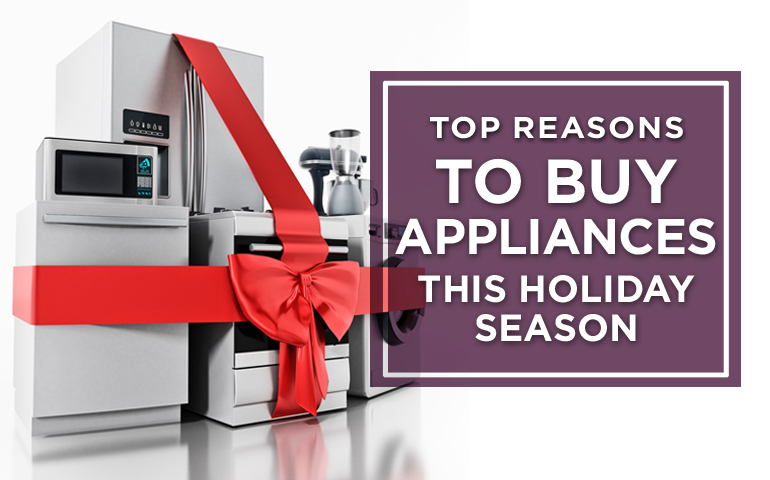 The Top Reasons to Buy Appliances This Holiday Season
This holiday season there is no better gift you can get yourself or a loved one than a new home appliance! From scoring a good deal to making your kitchen more efficient for a big dinner party, there are many reasons to purchase upgrades for your kitchen!
Hosting A Large Dinner Party
Are your kitchen appliances old or not working as well as they could be? This holiday season is the perfect time to purchase a new appliance, especially if you are planning on hosting a large get-together with friends and family. Hosting a ton of people to your house for a dinner party can be stressful, especially if you have unreliable or small kitchen appliances. Having a larger refrigerator will help you keep your food organized and makes it easy to find ingredients. You could also consider purchasing a double-oven to save time and make your cooking more efficient!
Outdated Appliances
Is your kitchen in need of an upgrade? This holiday season is a great time to replace your outdated kitchen appliances. January is usually the time when manufacturers roll out new models and retailers are eager to move last year's inventory. You might even stumble across a good deal if you decide to buy during the holidays.
Putting Your Home on The Market
Updating your appliances is also a good idea if you are considering putting your house on the market. If you will be selling your house this winter or even in the spring market, replacing your appliances can help the overall aesthetic and make your home more appealing to potential buyers which could garner a faster offer and/or higher selling price.
Want to Reduce Energy
With winter weather on the way, the cost of your utility bills might be at the forefront of your mind. Has your energy bill been higher than normal recently? You might want to consider upgrading some of your current appliances with new ones. The majority of appliances on the market today are more energy-efficient and designed to save you money. If you swap out old appliances for more energy-efficient new ones, you'll not only save money on your utility bills but also help reduce greenhouse gas emissions. Updating your appliances is one of the best ways to reduce your energy bill.
Safety Concerns
Have you noticed that your baking times have been significantly off when making cookies or roast? Are your dishes coming out of the dishwasher just as dirty as you put them in? Appliances that are not functioning properly can be potentially hazardous to your health and your home. Undercooked food and dirty dishes can be a breeding ground for bacteria to grow while electrical shortages or water leaks can start a house fire or damage the structure of the home.
Want an Updated Kitchen
When you are going through a remodel, this is the perfect time to consider replacing your kitchen appliances. This is the perfect time to think about styles, colors and what kind of appliances you want in your new space. Whether you are looking to purchase a new dishwasher, refrigerator, toaster, oven, microwave, or coffee maker you will find that you have an unlimited number of appliances to choose from.
This year if you have a tough person to shop for, you might want to add an appliance to the list! From safety concerns to having outdated appliances, there are so many reasons an appliance is a great gift. You might even be able to find some great deals around the holidays!
Have you heard about our New Neighbor Program? Berkshire Hathaway HomeServices The Preferred Realty can offer its clients exclusive discounts from area vendors, including Don's Appliance, through our New Neighbor Program. Want to know more? Ask your real estate agent for more information!
Berkshire Hathaway HomeServices does not endorse any of the products or vendors referenced on this material. Any mention of vendors, products, or services are for informational purposes only.