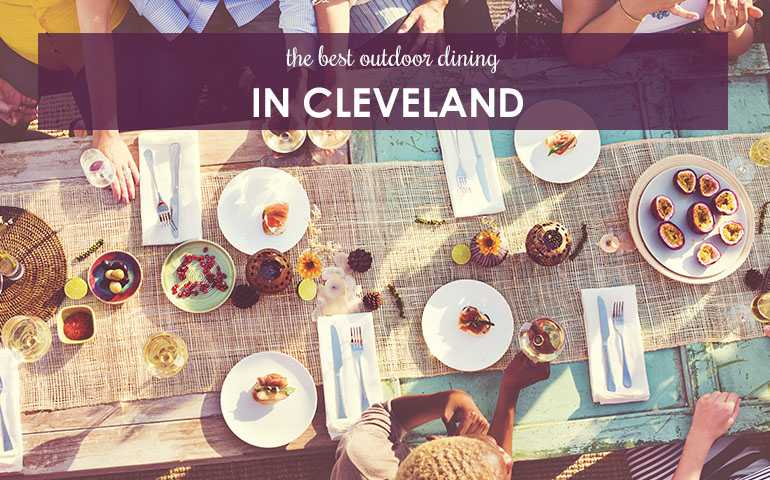 The Best Outdoor Dining in Cleveland
Now that Cleveland is in the yellow zone, we can start to enjoy some summer activities while practicing social distancing!. You now have the opportunity to find this year's favorite outdoor restaurants with the best food and views in town. Below, we've compiled some of the best restaurants in and around Cleveland to grab a bite to eat and enjoy the summer sun, six feet apart, of course!
Batuqui boasts an authentic Brazilian experience. Keeping their home in mind, the owners moved from the Bahia & Minas Gerais States of Brazil and brought the South American cuisine to Cleveland. The restaurant is in a restored house, so it has a homey atmosphere you'll be sure to love. Try a Caipirinha -- Brazil's National Cocktail -- and sample the exotic flavors of Moqueca, a Brazilian recipe based on saltwater fish stew in coconut milk, tomatoes, onions, garlic, coriander, and palm oil.
Enjoy the 30+ taps at the brand new, 811 Prospect Avenue East facility in Cleveland! This location will not only serve traditional Southern Tier favorites, but is home to its own brewing facility! Grab a bite to eat and enjoy the taste of local Cleveland!
Take in the live entertainment every Saturday, as you enjoy great lake views and a great selection of all-American sandwiches, burgers, and wraps. For a delicious, flavorful option, try the firecracker shrimp. This will make your tastebuds go crazy with shrimp that is tossed in a sweet and spicy chili sauce and topped with pico de gallo.
It's Friday and you are on the hunt for tacos and guacamole, look no further. Nuevo has an exciting and casual atmosphere that offers upscale Mexican cuisine. With a unique design concept, Nuevo offers rooftop, patio and indoor seating with a 360-degree view of Cleveland's skyline. Try the plantain fritters for a Caribbean treat before your meal.
Raise a glass and your altitude on Azure's rooftop lounge, which offers amazing views of Cleveland's iconic skyline. Enjoy happy hour from 3 to 6 p.mMonday through Friday and snack on fresh starters like artichoke hummus, coconut shrimp, and savory ahi tostadas.
Sometimes you need the familiarity of your local Irish pub. You'll find that and more at The Harp with food and drinks that aim to please. The menu offers a wide selection of local and imported beers, wines, liquors, traditional and contemporary Irish cuisine and a gorgeous patio with great city views. Voted the best Irish pub of 2018, you'll be sure to enjoy any menu item. Try the beer-battered fish filet sandwich for a new spin on the classic fish and chips!
We couldn't complete our list without a brewery. Noble Beast is a lively taproom for house-brewed beers & elevated bar snacks, sandwiches and salads. With high ceilings and a large glass garage door that opens on to Lakeside Avenue, you can enjoy the bustling but comfortable inside as well as the open air of the outside.
When it comes to outdoor dining in Cleveland, there's something for everyone. Whether you are craving a burger and fries or want to indulge in Brazilian cuisine you can be sure to enjoy your meal and the summer weather.