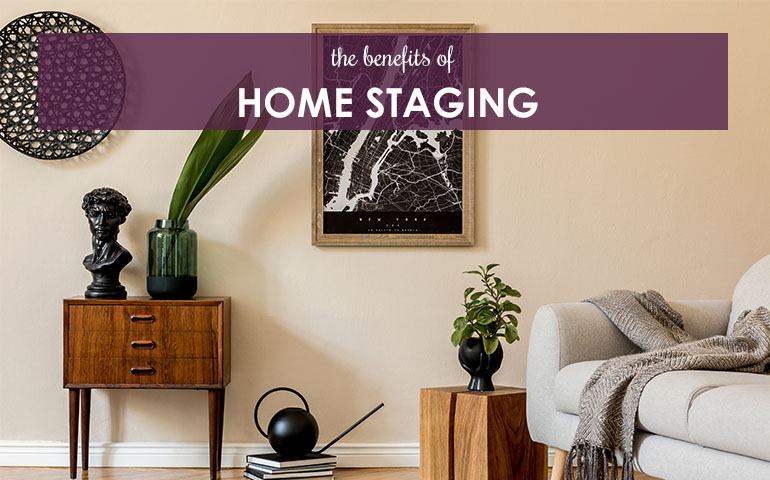 The Benefits of Home Staging
Staging a home for sale is not a new concept, but it is a practice that could help your home sell a lot faster. In today's market, buyers are looking for a home they can envision themselves in and move right in. A few simple staging tips can make all the difference for buyers.
Invite In Buyers
One of the biggest benefits of staging your home is that it invites potential buyers to view the home as their own. Home staging is usually done in a certain way, in which people with all tastes, lifestyles, and preferences are able to imagine themselves living in those exact surroundings. Many types of living situations are taken into consideration by professional home stagers. In the long run, this makes the property incredibly attractive to a wide range of people.
Highlight your Home
Staging your home will highlight the most important features of your space. Staging will allow you to prioritize specific areas when staging to make the biggest impact for the least amount of work. If you have a beautiful kitchen with a lot of storage space, you can skip the staging. Instead, focus on the master bedroom or entertainment areas that might need a little more work. When staging, the more simple you stick with, the better. You want your home's features to speak for themselves!
Make a Good First Impression
First impressions are important, especially when it comes to your home! Most buyers can walk into a house and decide if they like it in 20 seconds or less. This is why staging is so important. You want potential buyers to be able to envision your home as their own. Will they be able to make family recipes in the kitchen? Let their kids play in the yard? Or work from the home office? These are all questions that buyers will ask themselves when touring your home. Overall, staging allows you to make a great first impression!
Declutter Your Home
Staging will help your home appear less cluttered. Sellers want to know that they are purchasing a home with ample space and storage for their belongings. The more you can declutter your home, including closets and cabinets before the move, the better.
There are many benefits to staging your home, and oftentimes it can be done on a budget. If you need help staging your home, or need more tips on where to start, reach out to your real estate agent! They have all the information and tools you need to successfully stage your home and get it sold.