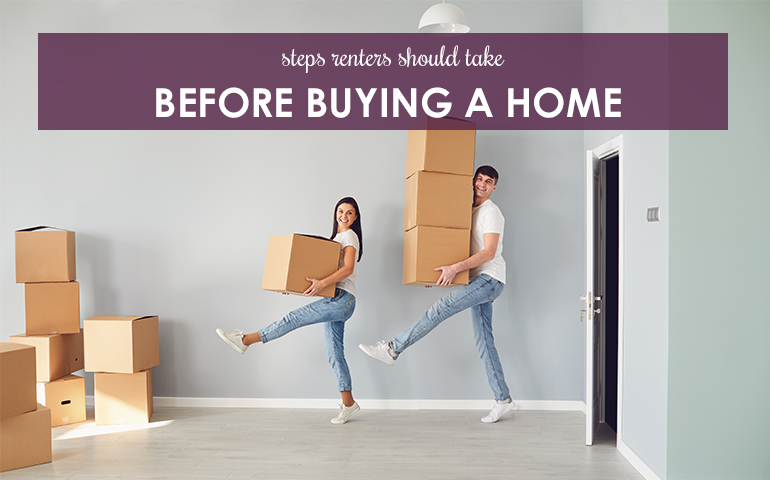 Steps Renters Should Take Before Buying a Home
Renting is a great option for a lot of people just starting out or for those who like maintenance-free living. But did you know that you could be saving money monthly by buying instead of renting? For most people, purchasing their first home is a huge milestone and decision, but it could actually help your wallet in the long run!
Start Budgeting
The very first step every renter should tackle when in the market is to figure out your finances. Buying a new home (particularly for the first time) requires a mortgage, where a lender fronts you the money and you pay it back over time.
Saving for a down payment is another big part of purchasing your first home. Although it is common to put 20% down on a house, if you are a first-time homebuyer, you may qualify to put down as little as 3%. But putting down less than 20% may mean higher costs and paying for mortgage insurance (PMI), and even a small down payment can still be hefty. For example, a 5% down payment on a $200,000 home is $10,000. The good news is once you hit your 20% down payment, you no longer have to pay the PMI. You will also want to account for any closing costs and moving expenses.
Research Where You Want to Buy
Planting your roots is a big step and you will want to make sure you do research on the area you want to live before you purchase your first home. If living near a grocery store, school or work is important to you, focus your search within a comfortable distance from those locations. Or if you are planning to start a family in your new home you will want to take a look at the public schools in your area. These are also all things that you can discuss with your real estate agent. They will be able to guide you through the decision-making process and offer advice on the areas you are looking.
You can also check out a free site such as AreaVibes that provides a "livability score" between one and 100. The site also allows you to sort locations by livability factors such as crime, amenities, education, and housing.
Estimate the Cost of Home Ownership
When you own a home, the ideal percentage of your gross monthly income that should go toward your mortgage is 28 percent. That means if you make $1,000 per month, no more than $280 should go toward your monthly mortgage payment and related expenses, such as taxes and homeowners insurance.
Shop for Mortgages
Shopping around for a mortgage can help you better understand what all goes into your housing cost and even help you get a better price. It's good to know the types of loans and do your own research before talking to lenders. There are two types of loans that a homeowner can obtain. Government-backed and conventional loans. Conventional Loans make up about 65% of all loans and are not backed by the Federal Housing Administration (FHA). These loans are offered by private lenders like commercial banks, mortgage companies, and credit unions. Government-backed loans, on the other hand, are loans that are specifically designed for people with bad credit and stricter buying circumstances. Government-backed loans also have less rigid borrowing requirements and are ideal for first-time homebuyers.
Start Your Home Search
Now it's time for the fun part! As a home buyer, the home search process can be slightly overwhelming so you'll want to ask your real estate agent for guidance and help setting up showings. You will also want to make a list of all the things you picture being in your home. It's best to separate your must-haves from those features you'd like, but don't really need.
If you are renting and want to take the big step in purchasing your first home follow these steps to make sure your process is smooth sailing. You will also want to reach out to a real estate agent to make your search easy and enjoyable. Our team at Berkshire Hathaway HomeServices The Preferred Realty is here to help you!