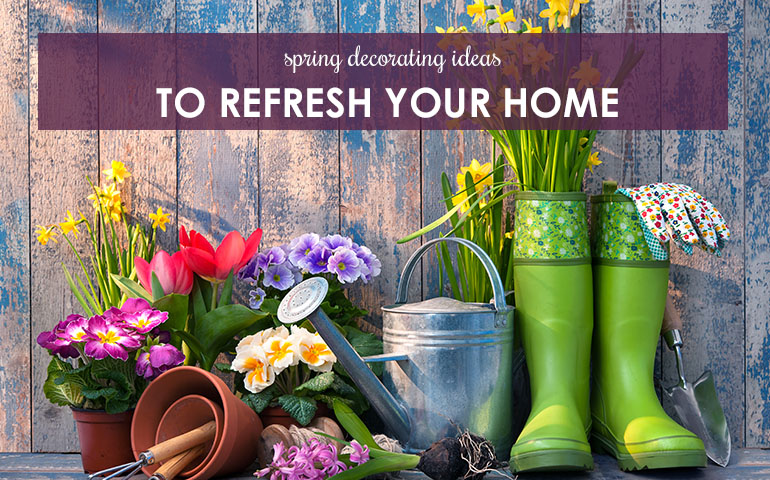 Spring Decorating Ideas to Refresh Your Home
As the weather gets warmer, most people turn their attention to landscaping their yards or gardens. However, this is also the perfect time to open the windows, clean out clutter, and give your indoor spaces a makeover as well. If your home is in need of a little refresh, there is no better season than spring to make small updates around your house.
Refresh Your Bedding
Making small updates to your bedroom, like changing up your bedding can change the whole look of your room and give it a fresh feel. This is the perfect time of year to wake up your bedroom with some new bedding. Or, simply refresh your look by switching out your heavy winter blankets, throws, and pillows with lighter-weight and lighter-toned versions. You could also add some throw pillows or a blanket at the end of your bed to add different texture and color.
Use Pops of Color
Adding in pops of color throughout your home is a great way to give a room a quick update for the spring. Whether you choose to hang a new piece of artwork or want to completely revamp your room by painting an accent wall, there are so many ways to add new color into your home. Spring is the perfect time to play around with different colors to see what suits your style the best.
Add in Flowers and Plants
Using fresh flowers and plants is one of the easiest ways to refresh your home this season. Not only do fresh plants add pops of color to your home, but they also increase oxygen levels and help naturally purify the air.
Floral arrangements are also really easy to throw together this time of year. From bunches of daffodils and tulips to eucalyptus and hyacinths, take advantage of all of the flower options at your local grocery store or florist shop. Decorating with fresh flowers is easy and can be done in every room in your house to add pops of spring!
Switch Your Candles
If you're someone who fills your home with gingerbread and pumpkin-scented candles around the holidays, it's time to change those candles out for something a little more spring-friendly. Try adding in floral or citrus candles to liven up any room in your house. You can even try to match your flowers and candles to make your home smell like a greenhouse!
Get the Patio Ready
One of the best parts about the spring season is you can finally make use of your outdoor spaces again. Pulling out your patio furniture and getting everything set up is a great way to give your home a refresh for the season. Add a few string lights overhead, and a paper lantern or two, and your patio will be ready for spring and summer entertaining.
Giving your home a spring refresh can look different for everyone. Whether you want to give your home a complete makeover or just add in a little color with some plants, there's no better time to make the updates and enjoy the fresh spring air!