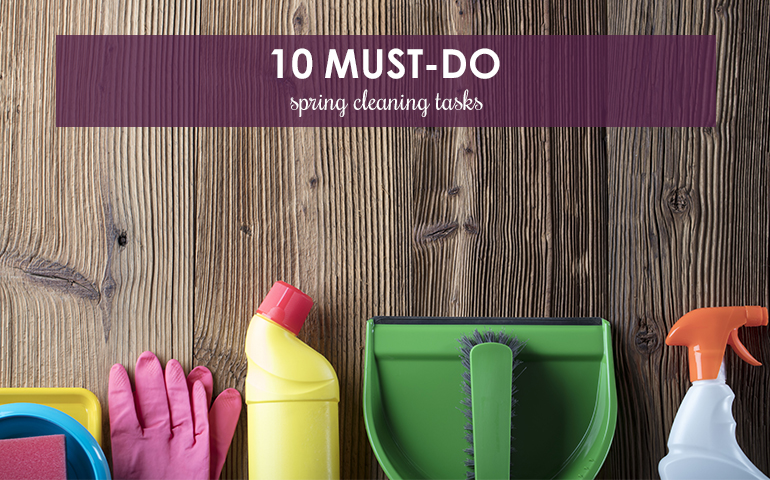 Must-Do Spring Cleaning Tasks
With Earth Day's arrival and the influx of warmer weather on the horizon, there is no denying it – spring is here! The season brings the annual task of sprucing up your home. That's right, it's time to put on your gloves, grab your bucket and get your spring cleaning underway.

Not sure where to start when it comes to this must-do task? Here are a few tips that will have your home in top shape in no time this spring:

1. Declutter first.
This task might just be the reason why spring cleaning is dreaded for so many of us. But, when you take a page out of Marie Kondo's book and shed your home of things that no longer spark joy or simply even match your current décor, you'll be glad to rid yourself of extra items. Take this first step seriously when sprucing up your home this spring.

2. Let the seasons guide your efforts.
Warm weather should be your cue to put away your winter wardrobe. Now is the time to say "so long" to your comfy sweaters and heavy socks. Put your cold weather gear into bins and stow it away until the fall.

3. Give yourself a window to the outdoors.
Don't you just want to peer outside and enjoy all that spring has to offer? If your windows are dirty or dingy, you'll have a hard time seeing Nature in her glory. Take this early-spring opportunity to make sure your windows are shining for summer.

4. Get rid of the gunk in your gutter.
Winter certainly can weigh down your gutters. From leftover leaves to stubborn snow, ice and dirt, your gutters could be clogged with gunk you just don't want to deal with. Address gutter debris before any more builds up this spring.

5. Own up to mistakes made in the oven.
We may not clean our ovens every time a casserole boils over, but spring is a great excuse to self-clean your oven. Scrape excess debris from the sides and scour it until it is smooth. You'll probably be spending a lot more time grilling in spring and summer – so use this time to make your oven spotless!

6. Rethink what you're saving in the fridge.
While you're scraping and scouring, don't forget about your fridge. Check old condiments for expiration dates and wipe down the shelves of your refrigerator before you let another food item go to waste.

7. Look to upgrade to LEDs.
While you're throwing old items out, consider removing old, incandescent lighting from your home. New, LED lighting lasts longer and saves you money in the long run. Inspect your bulbs to see if you might have room for improvement throughout your home.

8. Clean up your carpets.
If you have pets, this is a must. Even if you don't, spring is a great time to give your flooring a fresh start for warmer weather. Steam your carpets to send off anything winter may have left in your home.

9. Dust items you wouldn't dream of.
Often times, it is easy to dust off the end tables and eye-level areas where visitors might easily see dirt in your home. But sometimes, it is nice to clean those not-so-easy-to-reach areas of your home too. Don't shy away from seldomly-dusted areas during spring cleaning.

10. Contact us!
Have all of your decluttering and spring cleaning tasks inspired you to sell your home and search for a larger – or smaller – space? Let us help! Contact an experienced professional at Berkshire Hathaway HomeServices The Preferred Realty for help with selling or buying a new home this spring.