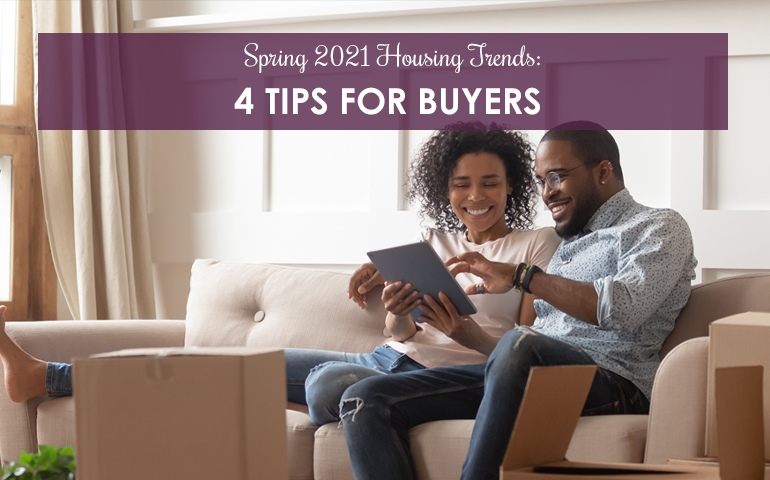 Spring 2021 Housing Trends: 4 Tips for Buyers
In 2020, the United States saw an unprecedented shift in the housing market. This ripple effect has continued to affect the market in 2021, and a large crowd of people are interested in buying a home. With this large number of people moving into the market, it's going to be a challenge for buyers to find homes. Now that we're in the spring selling season, buyers should be as prepared as possible for any outcome. If you are looking to buy a home this Spring, don't worry, here are a few tips to help you prepare!
Work With an Experienced Agent
Working with a great real estate agent can give you the upper hand in a seller's market. When you have an idea of what you want, your agent can speed up the entire process for you. Not only can they alert you when a suitable home hits the market, but they can also schedule day-of tours for you. Agents can help you submit a more competitive offer when it comes time. Trust their advice and negotiation skills when it comes to putting in an offer.
Focus on Finances
Before your home search, there are a few things you can do to get a head of the game, including getting your finances in check. To ensure you are getting the best mortgage rate possible, take the time to boost your credit score, pay debts and settle any overdue accounts. Prior to beginning your home buying process, you should take the time to save up for a larger down payment. A large down payment will help you stand out to the seller. All of these steps will help you in the long run, we promise!
Impress the Seller
Submitting an offer is more than just a numbers game. Hopefully, with the help of your agent, you will discuss an offer that works best for you, but also impresses the seller. Unfortunately, your offer may not be enough due to strong competition. Now is the time to pull out all the stops! Consider putting in your best offer from the start rather than negotiating, evaluating a contingency or two, offering more hand money or being flexible with your closing date. All of these will make your offer stronger against competitors.
Be Flexible
When buying a home in a seller's market it is extremely important to be flexible whenever you can be. Due to the extreme competition, you may have to put in multiple offers on different homes, try to not let this discourage you. Going into your search with a sense of flexibility will help you out in the long run. In a market like this, you have to be willing to work around your initial wants and desires. For example, if a finished basement is high up on your priority list, but you've been having a hard time finding one in your search, it may be time to look for homes with unfinished basements. Again, don't let this discourage you! You can also focus on changes and renovations later if you want. Flexibility is key in a time like this.
Buying a home can be a stressful process regardless of the time of year, but in a seller's market, finding an affordable home is still possible. Hopefully, these four tips help you in your journey to finding your dream home this spring.