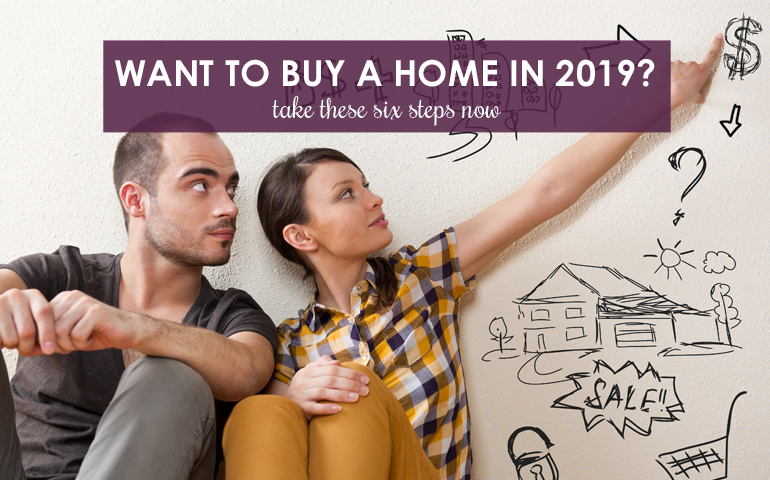 Want to Buy a Home in 2019? Take These Six Steps Now
There is always a lot of focus on making changes during the beginning of the year. And, why not? The new year is a great time to focus on the things you want. If you're looking to buy a home in 2019, it is never too early to start preparing.

Got home ownership on your to-do list for the year? Add these resolutions to your daily routine now:

1. Work to improve your credit score.
For most people, a home is the largest purchase they will ever make. So, it only makes sense that much of the work in preparing to buy a new home has to do with your finances. When you decide that you'd like to buy a home, it is time to get familiar with your credit score. Not only do you need to know your score, but you should also work to improve it. The higher your credit score is, the more likely you are to get approved for a home loan – and receive a better borrowing rate on your loan.

To help boost your credit score, make timely payments on your debts. Pay down your credit cards but keep them open so that you have more available credit. Finally, do not open new cards. These steps will help improve your credit score over time.

2. Reduce your debt.
This financial resolution will not only help to improve your credit score, but it will also help improve your debt-to-income ratio, which will make you a better candidate for loan approval. When deciding whether to offer you a home loan, lenders may scrutinize many aspects of your financial picture. With less debt, you'll give lenders a great snapshot of your financial responsibility.

3. Build up your savings.
Fewer debts also will give you a better opportunity to save some money. And, your savings is another aspect of your financial picture that lenders will be very interested in. But you don't only want to build up your savings to impress lenders. You'll want to save money for a down payment on your new home. You'll also need to have cash on hand for closing costs. Finally, nearly every homeowner would agree that you will want to have money saved up for things like home décor, maintenance, and renovations. Start saving early in the year to put yourself in the best position possible to afford the home you want—and the things you want to put in it!

4. Do a little research.
Once you're on track with your finances, it is time to hit the books… or the web. Start to research information about the area where you are looking to buy. See what kinds of homes are available and how much homes are selling for. This will give you a good idea of how much home you can afford to buy before you even begin a serious home search. Doing some research up front also will help you make sure you are happy with the area you choose to live in.

5. Seek loan preapproval.
Getting your finances in order… check. Researching how much home you can afford… check. As you prepare to buy a home, it is a good idea to secure loan preapproval from a lender. Sure, your research might help guide you to the range of homes you can afford, but loan preapproval will certainly give you the confidence to start a home search. Loan preapproval will also let home sellers know you're serious about purchasing a home. Seek out a few lenders to find the one that is right for your home loan.

6. Find a real estate agent.
Whether you're ready to begin your home search or not, it is never too early to find a real estate agent who you are most compatible with. You want to find an agent who you trust to not only help you find great homes but one who will help you negotiate a fair price and help you get through the closing process until you're holding the keys to your new home. You can take word-of-mouth referrals from friends or family members, interview a few real estate agents and talk to their previous or current clients. Ultimately, select the agent you feel most comfortable with and confident in to help with your new home purchase.

Ready to get started? We can help! Contact a trusted Berkshire Hathaway HomeServices The Preferred Realty agent to begin your home search today.